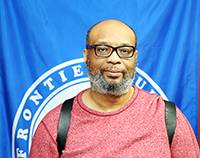 At the heart of Frontier Nursing University is a talented and diverse community of students, alumni, faculty, staff, Couriers and preceptors. Spotlight blogs feature members of our FNU community who are focused on the mission of educating nurse-midwives and nurse practitioners to deliver quality healthcare to underserved and rural populations.
Frontier Nursing University (FNU) Doctor of Nursing Practice (DNP) student Keife Earley, MSN, PMHNP, is co-owner of Earley HealthCare, a concierge medical treatment clinic in Monroe, La., that serves those who are reluctant to receive services in a hospital or traditional setting. Additionally, the clinic expands its reach in the community by offering house calls to those who are not comfortable leaving home. Earley also works as a Psychiatric-Mental Health Nurse Practitioner (PMHNP) with a local addiction treatment center to provide inpatient and outpatient psychiatric treatment.
"The addiction center serves the bottom 10 percent of income earners. The clients are people who are reluctant to seek traditional care for various reasons," Earley said.
Earley completed his Master of Science in Nursing (MSN) at FNU to become a PMHNP in 2021. The PMHNP specialty track is for advanced practice nurses who seek to improve mental health care and the overall health status of communities. With a focus on lifetime care for individuals, PMHNPs are committed to promoting mental health through assessment, diagnosis and treatment of behavioral problems, mental disorders and comorbid conditions.
Earley is now pursuing a DNP at FNU, the highest degree for clinical nursing practice, which he will complete in 2023. FNU's clinical doctorate is designed for nurses who want to build on what they already learned in their master's studies and take their nursing career, leadership skills and clinical expertise to the next level.
"With the DNP, I have the opportunity to research and possibly publish data that can help those struggling with substance use disorders," Earley said.
Earley previously worked as an RN in the emergency room at LSU Ochsner Hospital Monroe. He also holds a Master of Business Administration and a Master of Science in psychology. Earley says he chose Frontier because the school is nationally ranked and has strong core values and a long history of success in distance learning.
"I chose Frontier because the school is nationally ranked and has strong core values and a long history of success in distance learning," Earley said. "FNU has supported my journey to becoming a nurse practitioner in almost every aspect, from academic, to help during a hurricane, to mentoring and giving me an opportunity to attend national conferences."
Keife, along with his wife LaCresha Earley, FNP,  are committed to providing care in underserved communities in Louisiana. LaCresha was also impressed with the core values of FNU, Keife's experience, and FNU's rural mission. She is also a student now in the PMHNP Post-Graduate Certificate program.
Thank you, Keife, for your dedication to caring for underserved communities in Louisiana those who struggle with substance use disorders. We are proud to have you as an FNU student!
Click the links to learn more about Frontier's Psychiatric-Mental Health Nurse Practitioner program and our Doctor of Nursing Practice degree.