At the heart of Frontier Nursing University is a talented and diverse community of students, alumni, faculty, staff, Couriers and preceptors. Spotlight blogs feature members of our FNU community that are focused on the mission of educating nurse-midwives and nurse practitioners to deliver quality health care to underserved and rural populations.
Lesia Holder has always worked in higher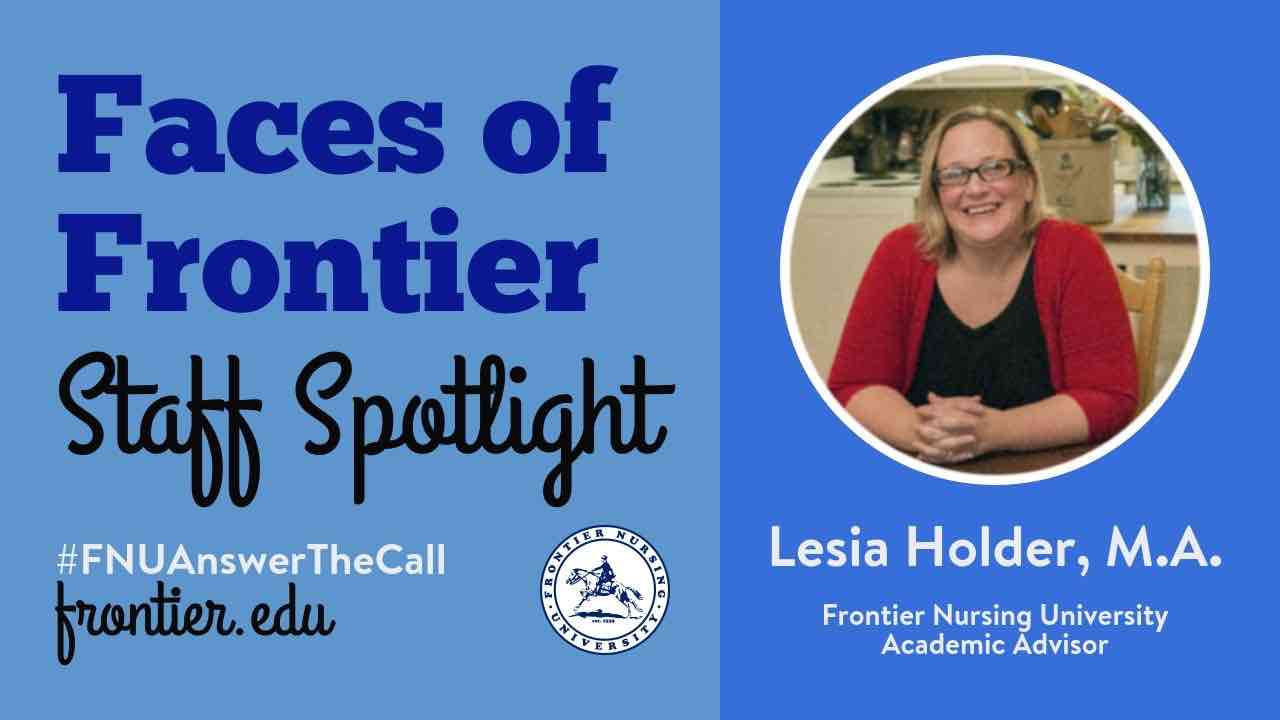 education and looked specifically for institutions with a unique history and mission. When she heard about the academic advisor position open at Frontier Nursing University (FNU) she knew it would be a great fit.
Working at Frontier for the past two years now, Lesia loves sharing in the common mission of reaching rural and underserved communities. As an academic advisor, she helps students navigate academic programs and university processes, with a goal of making their FNU journey a little easier.
"I hope that my students feel supported and reassured by having someone in their corner from start to finish," said Lesia. "I truly enjoy meeting with them each term to see how they're doing and help them make steady progress toward graduation. I also love hearing about their families, road trips and work adventures. The FNU community is great at building good relationships, even when you are 1,000 miles away!"
Lesia's favorite part of working at FNU is sharing in the victories of her students, small and large.
"When a student emails me that they passed an exam they were worried about, or thanks me for listening to them unravel for a few minutes, I feel like I'm doing good work."
According to Lesia, she can often sympathize with her students' workload struggles because she spent a number of years balancing work, motherhood and graduate school. Lesia has completed two years toward her Ph.D. in Higher Education from the University of Kentucky, and already holds a Master of Arts in French Literature and a Bachelor of Arts in French.
Lesia has two sons who are 12 and 8, and a daughter who is 5. According to Lesia, the family is always in transition so there is never a dull moment. Her oldest just survived his first year of middle school, and now she has a new kindergartner this fall. Spending time with her children is Lesia's biggest joy, but she also loves to read, cook and decorate.
Thanks for all that you do to help our FNU students, Lesia!