At the heart of Frontier Nursing University is a talented and diverse community of students, alumni, faculty, staff, Couriers and preceptors. Spotlight blogs feature members of our FNU community that are focused on the mission of educating nurse-midwives and nurse practitioners to deliver quality health care to underserved and rural populations.
Beulah Couch is a human resources and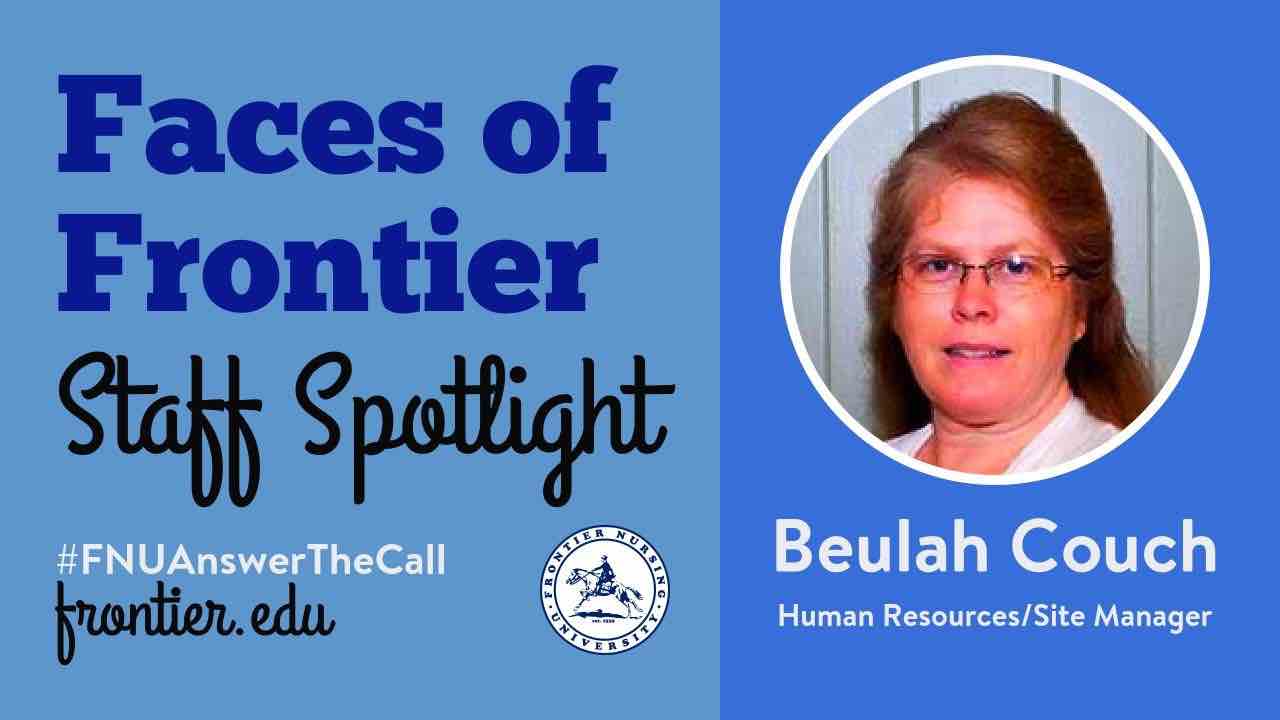 site manager at Frontier Nursing University's Hyden campus. Born and raised in the area, Beulah worked in the Mary Breckinridge Hospital near Frontier Nursing Service (as the school was known then) as a teenager. Midwifery attended births were the norm in her family. Her grandmothers had their babies at home, and her mother was named Sinclair after the midwife who assisted with her birth.
After she graduated, Beulah became an admissions clerk at the hospital. She spent a lot of time in the OB unit, so she knew exactly where she wanted to go when she was ready to have babies of her own. Mona Lyndon was a midwifery student completing her clinicals when Beulah had her baby in 1977. Beulah shared the following about Mona:
"She listened to the baby's very first heartbeats and measured my stomach to see how much the baby had grown between visits. She counseled me when I gained too much weight and told me that breastfeeding was the healthier option when it wasn't the cool thing to do. When my baby decided to arrive early, Mona was out of town. The next day, she held her and cried as she kissed her on the cheek."
Mona had followed Beulah throughout her pregnancy, and Beulah often wondered where her career had taken her. Thirty-eight years later, Beulah found Mona Lydon Rochelle featured in FNU's Quarterly Bulletin:
"After graduating as a certified nurse-midwife, Mona moved for a short time to the northeast, but ended up in 1979 in New Mexico, where she worked at a birth center for two years. She moved to Boston with her husband so that he could attend Harvard Law School. They returned to New Mexico for eight years where Mona practiced clinical midwifery. In 1994, they moved to Washington where Mona earned a Master's of Public Health and PhD in epidemiology. She graduated in 1999 and joined the faculty at University of Washington the following year."
Read the full article here.
After her children started school, Beulah began working at Frontier Nursing Service. She worked for 17 years at Wendover where she explored everything about Mary Breckinridge, from the attic in her log home to the springs that fed the huge stone cisterns on the mountain behind the Big House. She ate mulberries from the trees and read the historical Quarterly Bulletins in the attic of the garden house.
As a Hyden native, Beulah says that FNU has become part of who she is. "I think I have interacted with every employee that has worked here for the last 22 years. I'm thankful that I am part of the team who helps get these wonderful folks on board so they can continue the mission for women and families throughout the world. I love this place!"
We are fortunate to have dedicated staff members like Beulah as part of the FNU community.