It's been an exciting year for the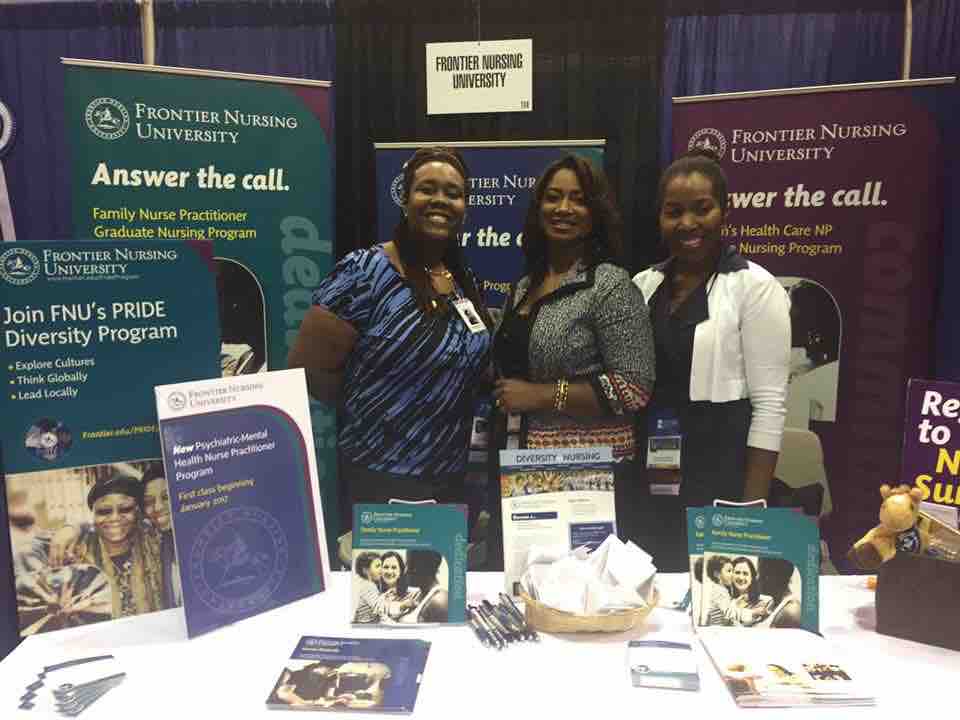 Frontier Nursing University (FNU) Diversity PRIDE program, an initiative designed to promote diversity in nursing and midwifery. FNU is proud to recruit and retain underrepresented students who have the goal of becoming nurse-midwives or nurse practitioners. Here's a quick summary of the exciting events that our PRIDE students have participated in throughout 2016:
American College of Nurse Midwifery (ACNM) Annual Conference
The summer kicked off in May when two PRIDE ambassadors were selected to attend the ACNM Annual Conference. FNU PRIDE students Michelle Gragg and Ximena Rossato-Bennett represented the university and the diversity program at the conference as recipients of the annual ACNM Student Ambassador essay contest. The essay contest is an initiative aimed at fostering student leadership retention, professional networking and continued nursing education. Michelle and Ximena attended sessions on race, socioeconomic disparities and cesarean epidemic delivery rates in the U.S. Click here to read more about the ACNM Conference and here to see the PRIDE summary of the conference.
American Association of Nurse Practitioners (AANP) Annual Conference
In June, two other FNU PRIDE ambassadors, Elena Prendergast and Rachel Koransky-Matson, were selected to attend the 31st AANP Annual Conference. Elena and Rachel were also winners of the annual AANP Student Ambassador essay contest. The conference offered an opportunity for FNU students to enhance their skills and experience the clinical side of providing innovative care to patients. To read about Elena and Rachel's experience at the conference, go here.
National Association of Hispanic Nurses (NAHN) Annual Conference
In July, FNU Diversity PRIDE Program Coordinator Wilvena Bernard, along with PRIDE Student Ambassador Adriana Hernandez, traveled to Chicago to attend the NAHN Annual Conference. Wilvena and Adriana met several nurses and shared information on FNU's distance education program and specialty tracks. During the conference, attendees participated in a variety of workshops focused on healthcare issues facing the Hispanic population, the role of new technology in improving care for Hispanic patients, how to use outcomes-based research, the value of advanced and continuing education for nurses, and how to develop a professional leadership development plan. Go here to read more about the conference.
National Black Nurses Association (NBNA) Annual Meeting and Exhibition
In August, the 44th annual NBNA Meeting and Exhibition convened in Memphis, Tenn., with thousands of attendees. FNU Diversity PRIDE Program Coordinator Wilvena Bernard along with PRIDE Student Ambassadors Essence Williams and Homecia St. Clair, attended the conference. Conference workshops focused on multifaceted opportunities in nursing and healthcare, as well as advocacy for a diverse and inclusive workforce to improve the health of citizens living in diverse communities.
American Assembly for Men in Nursing (AAMN)
In September, the The 41th American Assembly for Men in Nursing (AAMN) annual meeting and exhibit was held in Miami Fla. FNU Students, Julian Williams and Thomas George represented FNU and the Diversity PRIDE program. The overall conference goal of AAMN focused on supporting the professional growth of men in nursing. The theme centered on promoting diversity and inclusivity to increase gender diversity, where currently male nurses make up 9% of the overall nursing profession. See the students' video summary here.
These events were not only great experiences for our students, but also great opportunities to share FNU's diversity intiative PRIDE program. We are excited to finish out the year by sending two PRIDE ambassadors to two additional conferences hosted by the American Association of Birth Centers and the American Assembly of Men in Nursing. Stay tuned for updates on the PRIDE program throughout the year! Learn more about FNU's Diversity PRIDE program here.
See more from our PRIDE ambassadors on our YouTube channel!