Frontier Nursing University (FNU) is proud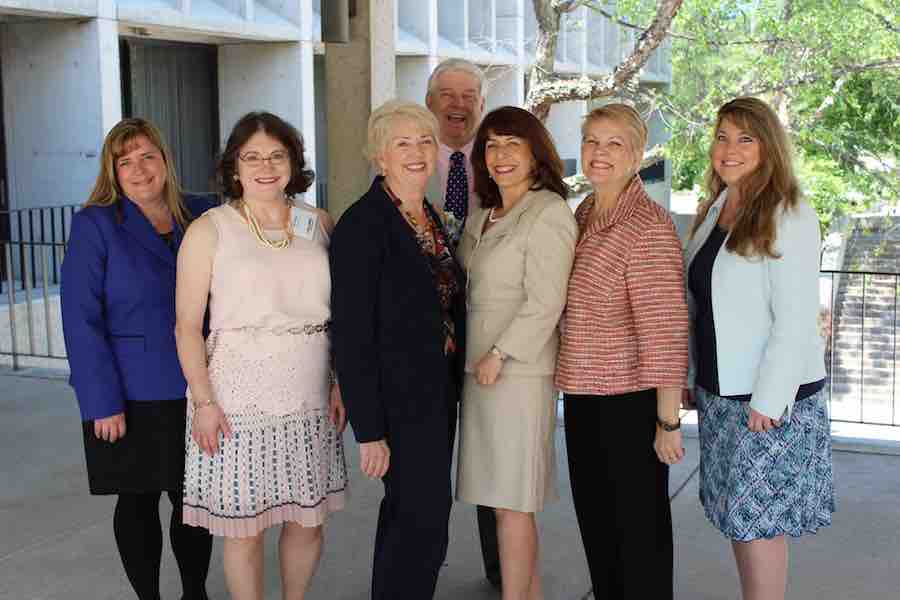 to announce that our president, Dr. Susan Stone, recently received The University of Tennessee (UT) College of Nursing Outstanding Alumnus Award. The Outstanding Alumnus Award was presented in recognition of Dr. Stone's contributions to the nursing profession. It is the most prestigious award given by the UT College of Nursing Alumni Association.
The award was presented on Friday, May 6 at the UT College of Nursing Alumni Awards Luncheon. The following words were read in honor of Dr. Stone:
"For the past 15 years Susan Stone has served as the President of Frontier Nursing University. Under her leadership, the University moved from a very small school (with an enrollment of about 200) educating certificate prepared nurse-midwives to a fully accredited, independent, single purpose university offering the MSN and DNP degrees with specialties in nurse-midwifery, family nursing, women's health and psychiatric nursing. The University is a non-profit, private university founded within the vision of Mary Breckinridge, a pioneer in health care. Currently, over 1600 students are enrolled at the University and graduates are in every state in the U.S. and seven foreign countries. The programs are delivered through a combination of distance learning courses, on campus sessions and experience in clinical sites around the country. Dr. Stone has kept the university on a path of commitment to the mission of educating nurses to serve in rural and underserved areas. The majority of students and alumni live and serve in rural and/or medically underserved areas.
Dr. Stone began her career as an obstetrical nurse and quickly realized that she could impact care in a more meaningful way by becoming a certified nurse-midwife. She practiced full scope midwifery care from 1991 through 1998. During this time, she precepted nurse-midwifery students and developed outreach clinical education sites for nurse-midwifery students in Upstate New York. Believing that having more nurse-midwives would ultimately serve the goal of safer, more satisfying birth experiences for women, she shifted her focus to the education of nurse-midwives. She relocated to Kentucky and served as the Program Director of Frontier Nursing University's nurse-midwifery education program.
In 1999, she realized that more education would help her attain her goals and she enrolled in the DNS program at University of Tennessee Health Science Center. This education propelled her career forward as a leader. Shortly after graduating she was appointed as President of FNU. Dr. Stone leads Frontier Nursing University with a goal of improving healthcare through increasing the number and quality of nurse-midwives and nurse practitioners to serve mothers and babies and the families who care for them. Please join me in congratulating our 2016 Outstanding Alumna, Dr. Susan Stone."
Congrats, Dr. Stone! Frontier Nursing University is honored to be under your leadership!