At the heart of Frontier Nursing University is a talented and diverse community of students, alumni, faculty, staff, Couriers and preceptors. Spotlight blogs feature members of our FNU community that are focused on the mission of educating nurse-midwives and nurse practitioners to deliver quality health care to underserved and rural populations.
In 1928, Mary Breckinridge, founder of Frontier Nursing University established the Courier Program, recruiting young people to come work in the Kentucky Mountains and learn about service to humanity. Couriers escorted guests safely through remote terrain, delivered medical supplies to remote outpost clinics, and helped nurse-midwives during home visits and births. Frontier has benefited tremendously from the 1,600 Couriers who have served since 1928.
Sallie Bingham was a Courier in the year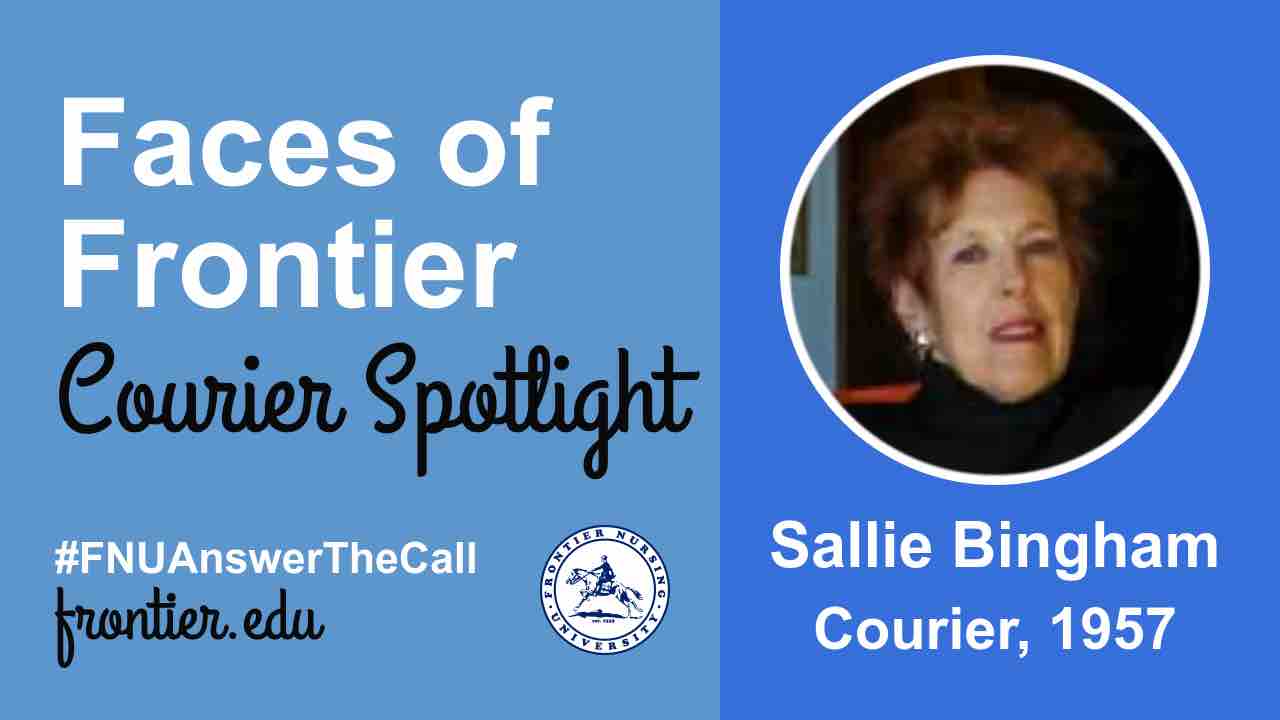 1957. Sallie's parents sent her from Louisville to Wendover as a way of avoiding a local traditional summer. She had just finished her junior year in college, and although it was the custom of that time, she did not want to make her "debut" like the rest of her classmates. Instead, they packed up the car and her father drove her down to be a Courier for the Frontier Nursing Service.
Sallie experienced a rough transition at Wendover. She struggled with feeling useful to the midwives. She recalls that there was not always something to do and in fact, there would be long stretches of time where there was nothing to do at all.
However, she was able to go on a couple of calls with the midwife and stood outside to hold the horse while she worked in the cabin. She also escorted a few guests and did some mucking out of the stables. Although she did not see a delivery of a baby, Sallie was able to see a calf born in the middle of the night with one of the nurses!
During free time, she remembers riding on the mountain roads, singing along the way so that the moonshiners could hear her.
Sallie had the opportunity to meet Mary Breckinridge a few times at tea, although Mary was usually fairly quiet. Sallie was fascinated by her. She was deeply touched by the plaque that was in town commemorating Mary Breckinridge's children.
Although her time as a Courier was not what she had expected, Sallie was exposed to a way of life that she had not previously experienced. She was amazed by the life of poverty and Appalachian culture of that time, which opened her eyes in many ways to other aspects of the world.
Her love for the health and wellbeing of women has continued, and she has remained interested in the history of FNS and Mary Breckinridge and their role in Kentucky's history.