At the heart of Frontier Nursing University is a talented and diverse community of, alumni, faculty, staff, Couriers and preceptors. Spotlight blogs feature members of our FNU community that are focused on the mission of educating nurse-midwives and nurse practitioners to deliver quality health care to underserved and rural populations.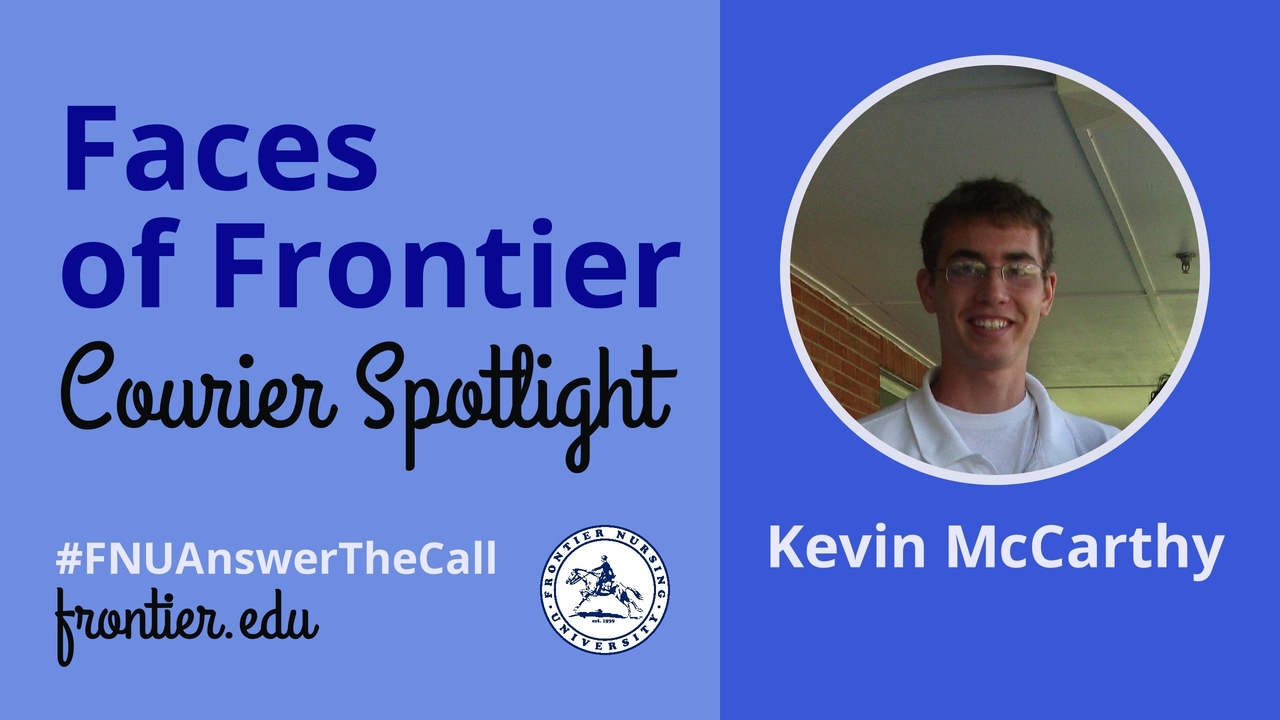 In 1928, Mary Breckinridge, founder of Frontier Nursing University, established the Courier Program, recruiting young people to come work in the Kentucky Mountains and learn about service to humanity. Couriers escorted guests safely through remote terrain, delivered medical supplies to remote outpost clinics, and helped nurse-midwives during home visits and births. Frontier has benefited tremendously from the tireless work of the over 1,500 Couriers who have served. This tradition and legacy continues to this day.
While in school at Wabash College in Indiana, Kevin McCarthy was looking for an opportunity to do something related to public health in a rural setting. Through Wabash's career website, he stumbled upon a short piece about Frontier Nursing Service's Courier Program. He applied, was accepted, and made his way to Wendover, Kentucky, to spend the summer of 2010 there.
During his time in the program, Kevin was able to do extensive shadowing of health care practitioners at area clinics, Mary Breckinridge Hospital, and via home health rounds. In keeping with the historic vein of the Courier Program, he also transported people from the big city airport to Hyden. And although many of those activities were common for Couriers at that time, Kevin had quite an eclectic experience overall. He worked with prisoners from the local jail moving furniture, boxes, and other items for a local organization. He spent a week participating in day camps for kids at the Leslie County Agricultural Extension Office. Kevin also did data organization and analysis as well as solicitation of feminine hygiene products for a local non-profit organization; it should be told that the last part he did very successfully!
When asked by his former Courier co-coordinator about some of his most memorable times in the program he said, "Well, there was that time I was attacked by dogs and got my pants ripped. Oh and remember when we killed that rattlesnake?" Yes, we remember both of those events! Kevin also commented fondly on spending time with some of the staff at Wendover outside of work hours, particularly going fishing with one of the security guards.
Kevin's time in the Courier Program helped to reinforce his idea that he wanted to work in health care in a rural setting. It gave him a better perspective on what health care practitioners actually did and showed him how much nurses of all types could do. It hindsight, the summer of 2010 probably helped to move his life's path away from medical school and towards nursing school.
Kevin is currently enrolled in an accelerated nursing program in Indiana and is happy to see the footnotes in his textbooks referencing Mary Breckinridge and the Frontier Nursing Service. He stays in touch with many of the people he met while he was a Courier and is happy to see the strength of the current program. Kevin truly enjoyed his experience in Kentucky. In staying connected with the Courier Program, he hopes that it can continue to provide as wonderful opportunities to others as it did him.