At the heart of Frontier Nursing University is a talented and diverse community of students, alumni, faculty, staff, Couriers and preceptors. Spotlight blogs feature members of our FNU community that are focused on the mission of educating nurse-midwives and nurse practitioners to deliver quality health care to underserved and rural populations.
In 1928, Mary Breckinridge, founder of Frontier Nursing University established the Courier Program, recruiting young people to come work in the Kentucky Mountains and learn about service to humanity. Couriers escorted guests safely through remote terrain, delivered medical supplies to remote outpost clinics, and helped nurse-midwives during home visits and births. Frontier has benefited tremendously from the 1,600 Couriers who have served since 1928.
Upon her return from a volunteer trip in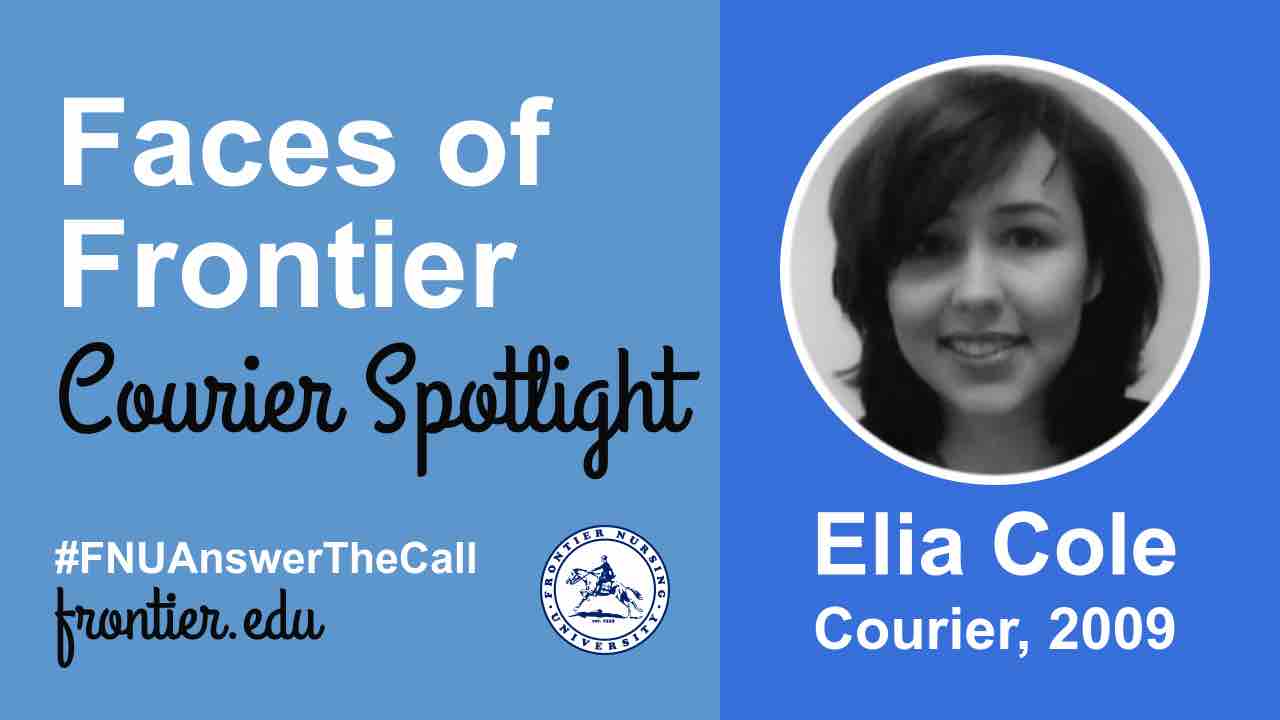 Lima, Peru, during which Elia Cole spent time observing in a hospital, she was inspired to explore public health issues in her own country—particularly in areas with limited resources. When she came across the Courier Program, she realized this internship was the perfect combination of education and adventure.
In the Summer of 2009, this junior in college traveled to Wendover to participate in the Frontier Nursing Service Courier Program. She remembers exploring the area with other Couriers and immersing herself in the Appalachian culture.
Her experiences as a Courier affected her deeply in a variety of ways. Elia wrote in her journal in July of 2009:
"As I sit here on Mrs. Breckinridge's front porch, listening to the rippling of the river below, I am filled with a sense of inspiration: to challenge my own expectations of comfort and to offer service to those around me. I am moved by energy of Mrs. Breckinridge and will leave Kentucky with a small piece of the spirit Appalachia stitched into my heart"
As a Courier, Elia spent much of her time shadowing doctors, nurses, and midwives. She also had the opportunity to observe part of a birth while at Wendover. When Elia was not at the clinics or hospitals, she assisted with dinners at Wendover, volunteered at the Leslie County Health Fair as well as the Leslie County Food Pantry, and assisted with the local summer reading club.
During her time in the Courier Program, Elia conducted research on social determinants of healthy lifestyle choices in Leslie County. This was Elia's first exposure to illiteracy in the United States, as well as her first encounter with public health research. Her experiences inspired her to focus on the importance of non-communicable diseases, something different from her previous public health volunteer experience. The Courier Program marked a turning point in shifting Elia's interests from therapeutic care to preventative and primary care.
Elia's time spent as a Courier influenced her career path; she took a position in Washington, DC working with a low-resource Ethiopian and Salvadoran community. She found that this community reminded her of Leslie County, particularly in regards to their health care issues. The experiences and knowledge that she gained as a Courier aided her greatly in serving in that Washington, DC community.
Today, Elia holds a Master of Public Health degree from Boston University and is currently a medical student at the Pacific Northwest University in Yakima, WA , where she hopes to study primary care—a decision again impacted by her service as a Courier.
Elia describes the Courier Program as an opportunity for individuals to explore their own understanding of the health care system within the United States and health issues particular to rural communities.
Elia continues to be involved at FNU and with the Courier Program. "By staying involved, I am reminded of the importance of service and connection through relationships, the aspects of caring for others that make the work rewarding."