At the heart of Frontier Nursing University is a talented and diverse community of students, alumni, faculty, staff, Couriers and preceptors. Spotlight blogs feature members of our FNU community that are focused on the mission of educating nurse-midwives and nurse practitioners to deliver quality health care to underserved and rural populations.
Frontier Nursing University (FNU)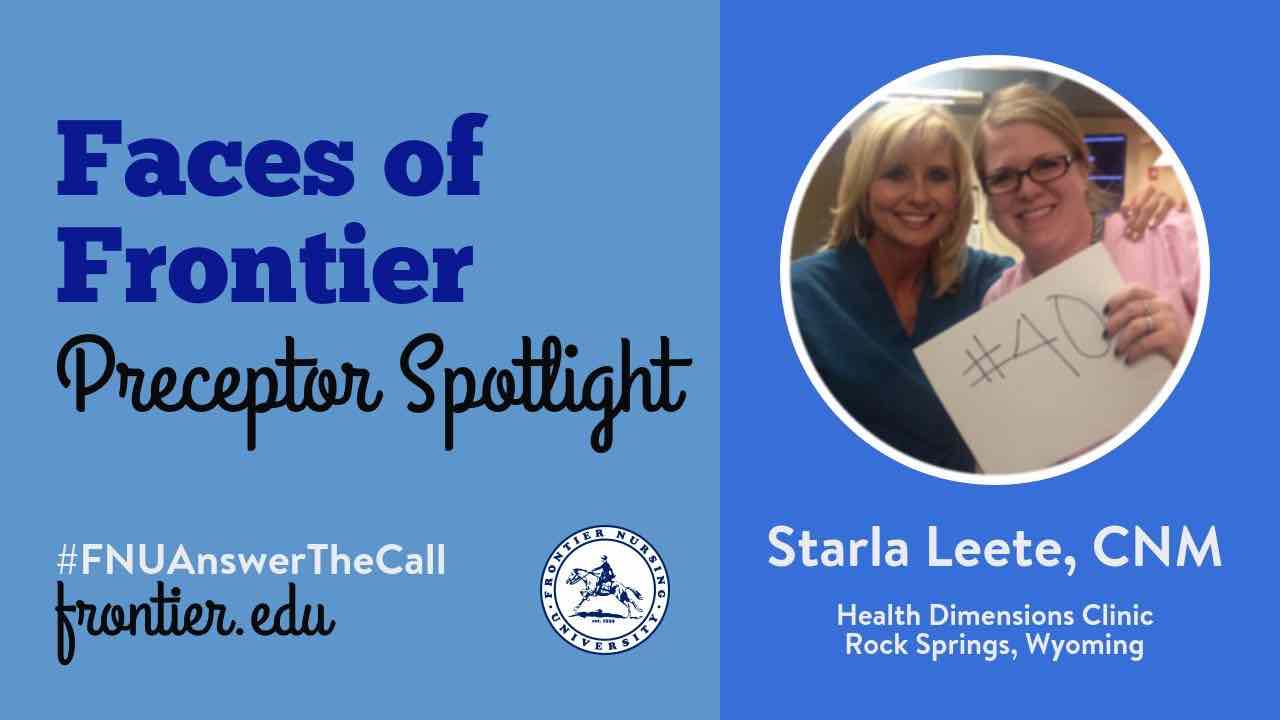 preceptor Starla Leete, CNM, from Health Dimensions Clinic of Rock Springs, Wyo., was honored as FNU's "Featured Preceptor" earlier this summer. Starla is a 2003 graduate of Frontier with certificates in both Nurse-Midwifery and Women's Health Care. FNU 2015 graduate Mandi Lew nominated Starla for the honor.
Mandi was Starla's first CNEP preceptee and is now a Certified Nurse-Midwife (CNM) in Rock Springs where she is partnered with Starla at Health Dimensions Clinic.
According to Mandi, as the first CNM in Southwestern Wyoming, Starla has created a positive atmosphere towards nurse-midwifery in the community. Their new practice caters to all women's needs, including maternity care, primary care and a variety of other services. Until recently, Starla was the only female women's health care provider to offer women's health services in Rock Springs.
In addition to being active in both her community and the American College of Nurse-Midwives, Starla is a proud mother of three boys. Her hobbies include travel, reading, and exercise.
For more information on Health Dimensions Clinic, visit their Facebook page here.
Thank you for your dedication to our FNU community, Starla!
As a Featured Preceptor, Starla's story was shared on the FNU website, and we treated her to a Starbucks gift card as a small token of our appreciation.