At the heart of Frontier Nursing University is a talented and diverse community of students, alumni, faculty, staff, Couriers and preceptors. Spotlight blogs feature members of our FNU community that are focused on the mission of educating nurse-midwives and nurse practitioners to deliver quality health care to underserved and rural populations.
Cathy Fliris is a Frontier Nursing University (FNU) faculty member, preceptor and alumni. She provided medical care to the citizens of Niobrara County in Lusk, Wyoming, in the Rawhide Rural Health Clinic for over 12 years.
Before moving to Wyoming, Cathy lived for 24 years in the village of Tanana in Alaska. The village is home to native Athabascan Alaskans, and is situated in the middle of the state on the banks of the Yukon River. Being so far out in the wilderness, the only access is to fly or go by boat, snow machine or dog team. She explained that the locals only trusted newcomers who went away for vacation and then "came back," which of course she did!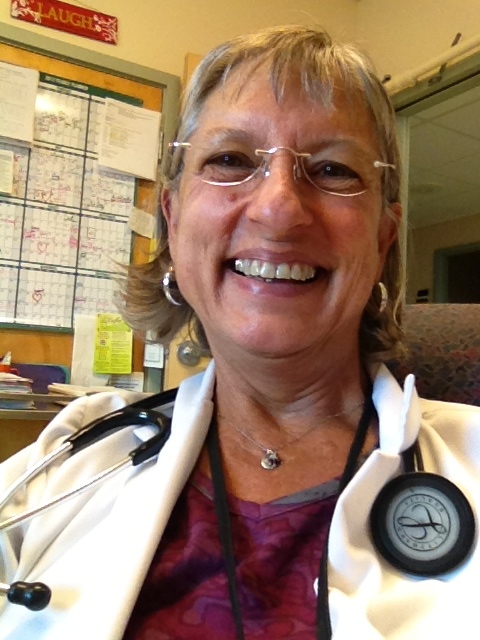 When Cathy was younger, she studied for her BSN in Seattle, with a federal National Health Service Corps (NHSC) scholarship that required that she work for two years in a an underserved area. She chose to work as an intern for six months in a hospital in Anchorage, Alaska, prior to being assigned to a small 20-bed hospital in Tanana. This is where she met her husband, a patient who came to the hospital after cutting his finger with an axe.
The man who would eventually become Cathy's husband had established a federal wilderness homestead on the Tozitna River, situated northwest of Tanana. He had flown into Tanana, 120 miles west of Fairbanks and walked 40 miles into the wilderness to build a log cabin, trap, fish and mush dogs. Cathy joined him there after completing her two-year service, and they were married on a nearby frozen beaver pond.
The couple later moved back into Tanana while Cathy was pregnant with their second son. They developed and ran a dog sled tourism business, teaching people how to mush dogs and guiding them to their log cabin. Cathy worked part time as a nurse in an assisted living facility in Tanana; had a custom arctic clothing business, specializing in making parkas and mukluks in native-inspired designs with modern materials; and went to fish camp on the Yukon River every summer with their sons and up to 50 dogs to fish for king and chum salmon. In 2000, while still living in Tanana, Cathy was accepted into Frontier's CFNP Class 5 to study for her MSN, and then applied for and received a second NHSC scholarship.
When Cathy graduated from FNU in 2003, her children were grown so she and her husband decided to relocate to Lusk, Wyoming, so that Cathy could complete her two-year payback service. The rural cattle ranching town of 1,500 people was a great move up in the civilized world for them, complete with two stoplights, a Subway and a yoga teacher!
Cathy worked in a primary care clinic associated with a 24-bed critical access hospital. With over 12 years of service there, she has been the most consistent resident provider. Cathy's patients appreciated not only the continuity of care they received from her, but also that she lived and participated in the community.
In 2007, she turned her focus from long-term care, emergency room coverage and hospital admissions in addition to primary care, to primary care only. This enabled her to pursue her DNP from Rocky Mountain University of Health Professions; she graduated in 2010.
In addition to her practice, Cathy has been a part-time faculty member in the FNU DNP program since 2009 and precepted students in her clinic. She enjoys teaching students about the role of the nurse practitioner in the health care system.
"FNU students come well-prepared for clinical training," said Cathy. "As an alumni and faculty member, I'm proud to say that they are some of my best students."

This year, Cathy moved to a rural island 60 miles north of Seattle to be closer to her family, partly due to her husband's recent death in a kayaking accident. She plans to continue teaching for FNU and looks forward to providing health care in a new rural community.
"Rural health care is challenging but rewarding professionally. I enjoy getting to know the individuals and their families," said Cathy. "I also have a deeper understanding of the biopsychosocial nurse practitioner model of providing care to individuals and families within the context of their community."
Cathy believes that the breadth of experience that nurse practitioners gain in rural practice can equip them with the experience, maturity and confidence to pursue their passions in health care. She looks forward to delivering consistent, engaged care in a new community, while building and reflecting on the experience she has gained throughout her life's adventures.