At the heart of Frontier Nursing University is a talented and diverse community of students, alumni, faculty, staff, Couriers and preceptors. Spotlight blogs feature members of our FNU community that are focused on the mission of educating nurse-midwives and nurse practitioners to deliver quality health care to underserved and rural populations.
In 1928, Mary Breckinridge, founder of Frontier Nursing University established the Courier Program, recruiting young people to come work in the Kentucky Mountains and learn about service to humanity. Couriers escorted guests safely through remote terrain, delivered medical supplies to remote outpost clinics, and helped nurse-midwives during home visits and births. Frontier has benefited tremendously from the 1,600 Couriers who have served since 1928.
The first time that Martha Hill knew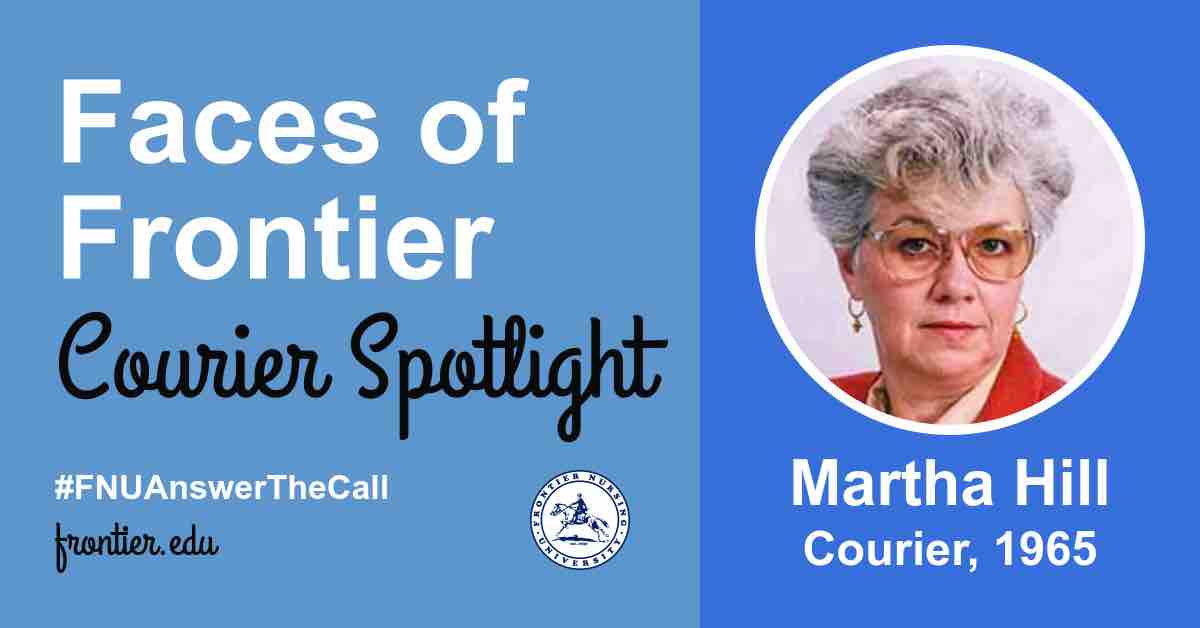 she wanted to be a nurse, she was in the sixth or seventh grade. She did not have a television in her North Carolina mountain home, so she spent a lot of time reading books about women in different professional roles. One of these books was about nurses on horseback, similar to the Frontier Nursing Service midwives.
Martha attended nursing school at Berea College and remembers reading about FNS in her literature. In the summer of 1965, following her sophomore year of college, Martha traveled to Wendover to be a Courier.
At that time, Martha was halfway through nursing school, so she was able to take on more responsibilities than usual as a Nurse's Aide in the hospital, while she was a Courier. She remembers working on the labor and delivery floor, where she had the opportunity to watch a few babies being born. She also worked on the postpartum floor and helped take care of the newborn babies, placing belly binders on them.
When she was not working at the hospitals, she did Courier work at two of the outpost clinics as well. Martha helped to clean the clinics, exercised the clinic's horses, and helped the nurses with whatever they needed. She remembers learning a lot while working at the outpost clinics.
Martha also had the opportunity to accompany nurses on home health visits. She recalls one particular visit when she went with the nurse to visit a woman who lived in a log cabin that was quite a distance away. The floor was made of dirt and there were newspaper on the walls to keep out the wind and rain.
"I thought it was practically like having no place to live. It was an eye opener for me at the time," she recalls.
Martha remembers the patients as very pleasant to talk to because they always respected the nurses. The patients did not always share the medical information that the nurses wanted to know, but they were very friendly and talkative.
One of Martha's most memorable experiences was when she was invited to meet Mary Breckinridge. She remembers being in awe of how much Mary Breckinridge gave up in her life to help the people of Eastern Kentucky.
Although Martha grew up in the mountains of Western North Carolina, the mountains of Eastern Kentucky were very different. She reflects, "It was very much a learning experience for me in terms of exposure to the different parts of the country, different attitudes, and different ways of living in our country."
After watching the midwives deliver many babies that summer, Martha was interested in becoming a midwife. Nevertheless, after finishing nursing school, she got married and decided not to go back to school to become a midwife. Later, however, Martha did receive a master's degree in nursing with a focus on maternal and child health and became the head of a two-year nursing program at a community college.
Martha says that her experiences as a Courier not only influenced her in her professional career but also impacted her life in even greater aspects. "I think it made me appreciate all different kinds of people and their backgrounds, where they came from, what they believed in… It was a one of a kind experience–I never experienced anything else like it."