Joan Todd decided to become a Courier in 1953 through the influence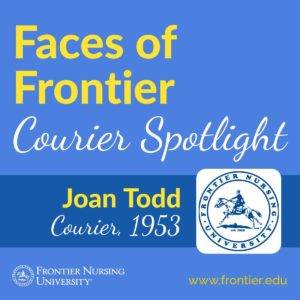 of two women well-connected with Frontier Nursing Service (FNS). Joan's grandmother had befriended Mary Breckinridge in college, and her mother had served as a Courier in her younger years. Although she was hesitant, Joan traveled to Wendover in 1953 to take part in the program.
Joan served in many roles as a Courier, such as organizing medications, removing the expired medications and stocking new shipments. She also traveled with the FNS nurse-midwives, assisting with deliveries. Joan would occupy the other children in the home during a delivery, and even spent the night with the children during long, overnight deliveries.
According to Joan, she was incredibly impressed with the knowledge and skills of the nurse-midwives, who delivered the infants into fresh newspapers because they were the most sanitary surface.
"They were able to deal with whatever came up, all the difficulties of birth," said Joan.
One of the tasks Joan took on as a Courier involved her worst fear: riding horses. After an earlier debacle of letting a horse loose to avoid riding it, Joan was asked to travel a large distance from the Hyden hospital to the Red Bird Clinic. She was given a nice, calm horse to ride on the journey. Though her fear of horses started to dissipate, she got turned around and eventually lost near the Kentucky River. Finally, as night was falling, she came upon a farmer who showed her exactly how to get to her destination. Joan considered that experience the most unique one of them all.
Joan also had the opportunity to interact with Mary Breckinridge during tea time. Breckinridge had the reputation of being stern with many, but she was very sweet to Joan.
While at Wendover, Joan became especially appreciative of the Eastern Kentucky scenery surrounding her.
"We don't realize what a true treasure we have in this state with the Kentucky mountains," said Joan. "I still think about them and want to go back!"
The people of the mountains left a lasting impression on Joan as well. Though they did not easily accept outsiders, according to Joan, they warmly welcomed the Couriers, who were recognizable in their white shirts with the FNS emblem.
In her time as a Courier, Joan not only learned about health care and Appalachian culture, but also discovered a lot about herself. Being a Courier greatly influenced her later decision to study nursing. She attended nursing school for two years before meeting her former husband and getting married.
Her time as a Courier "was the most enriching experience of my life," said Joan.
In 1928, Mary Breckinridge, founder of Frontier Nursing University established the Courier Program, recruiting young people to work in the Kentucky Mountains and learn about service to humanity. Couriers escorted guests safely through remote terrain, delivered medical supplies to remote outpost clinics, and helped nurse-midwives during home visits and births. Frontier has benefited tremendously from the 1,600 Couriers who have served since 1928.
At the heart of Frontier Nursing University is a talented and diverse community of students, alumni, faculty, staff, Couriers and preceptors. Spotlight blogs feature members of our FNU community that are focused on the mission of educating nurse-midwives and nurse practitioners to deliver quality healthcare to underserved and rural populations.