At the heart of Frontier Nursing University is a talented and diverse community of, alumni, faculty, staff, Couriers and preceptors. Spotlight blogs feature members of our FNU community that are focused on the mission of educating nurse-midwives and nurse practitioners to deliver quality health care to underserved and rural populations.
Essence Williams' midwifery journey began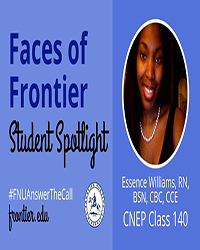 13 years ago when she was an undergraduate at Haverford College completing a semester abroad at the University of the West Indies in St. Michael Barbados. She took a course in women's studies and her final project was on nurse-midwifery.
The instructor was so intrigued by Essence's passion for the project that she connected her with the Barbados Nurses Association Midwives Group. After meeting the Bajan nurse-midwives, Essence interned with them at Queen Elizabeth Hospital in Barbados. She had the opportunity to shadow a home birth midwife in a rural area and work on her ethnographic research for her senior thesis.
Essence had an incredible experience abroad working with traditional midwives. "I learned about their physiologic birth practices and postpartum rituals, herbal remedies and the hands-on personal care and support that they provided for women and their families," she shared. "Studying abroad with the midwives literally transformed my whole outlook on women's health care. At that point, I knew I had found my calling. When I returned to the states, I knew I needed to do whatever it took to become a midwife. I have been working, interning, volunteering and studying in the field of maternity since that time."
Another reason Essence wanted to become a nurse-midwife was to preserve a family tradition. Her great-grandmother was a granny midwife. She was one of the only black midwives in Dade County, Florida, and delivered more than 500 babies in the 1930s and 1940s. She passed away before Essence was born, but her legacy as a holistic midwife, good mother, wife, advisor, spiritual leader and healer lives on.
"My great-grandmother will always be my inspiration, and I know her spirit continues to watch over me throughout my midwifery journey," said Essence. "I am not only pursuing a career in midwifery because it's my calling and my passion, but I am also doing it to make my family proud …and keep the legacy of midwifery alive in my family."
Today, in addition to being an FNU student, Essence provides public health nursing services in the Philadelphia area to first-time pregnant women and their families who are enrolled in the Nurse Family Partnership (NFP) Program affiliated with National Nursing Centers Consortium (NNCC)
. Most of her clients are 15 to 42 years of age, and many come from vulnerable populations in underserved communities and are underinsured or uninsured with limited access to prenatal care options, resources and services.
"Part of my job as a public health nurse is to provide education, support and advocacy by helping my clients access resources in the community that can better serve their needs during pregnancy and during the postpartum period," said Essence.
Essence conducts home visits with women and their children until the child reaches two years of age. 
Additionally, she teaches maternal-child health maintenance & safety, parenting & life skills, and Partners In Parenting Education (P.I.P.E.) Activities. She also performs prenatal, postpartum and child development (Ages & Stages) assessments in the home. Essence is a Certified Childbirth Educator and Certified Breastfeeding Counselor affiliated with Prepared Childbirth Educators Incorporated, as well as a Doula for the Philadelphia Alliance for Labor Support and the Philadelphia Inner Circle Midwifery Program.
Essence previously worked as an obstetrical clinical assistant at LifeCycle WomanCare in Bryn Mawr, Pa. While working at the birth center, she assisted Certified Nurse-Midwives and nurses with patient care and preparation and stocking of clinical supplies. She also worked for seven years as a medication care manager for Sunrise Assisted Living of Haverford, Pa. She prepared and administered medication to residents, and assisted residents with hands-on personal care, physical and emotional support, and daily living activities.
Essence chose Frontier Nursing University's Certified Nurse-Midwifery program because of its extensive history and because it allows her the opportunity to complete the program part-time while she balances work, life and school.
"Frontier offers multiple opportunities for nurses to advance their career. The MSN to DNP program, for example, allows students to earn their Doctorate of Nursing Practice degree in a field they are passionate about," said Essence. "Once I finish midwifery school, I plan to earn my DNP and continue to empower women, children and families in the community."
Essence also praised Frontier's faculty and mentors who have supported, encouraged and inspired her throughout her midwifery journey. She noted the fantastic leadership opportunities, scholarships and nursing career benefits for students of color from different racial and ethnic backgrounds offered through FNU's PRIDE Program. "As a member of the PRIDE Program, I hope to continue to impact and strive to advocate for diversity at FNU," she said.
"I am truly thankful to all of the FNU faculty, mentors and staff who have continuously supported me throughout my midwifery journey at FNU. I am grateful and blessed to have such a wonderful opportunity to be a part of the FNU community. I hope to do my very best to matriculate through the program successfully in order to fulfill my passion and finally accomplish my dream to become a midwife. Thank you FNU for being such an incredible inspiration to us all!"
We are equally inspired by Essence's passion and success and would like to thank her for sharing her journey with us. We are honored and proud that she is a part of the FNU community. You can hear more from Essence on why she wants to become a nurse-midwife in this short video:
Essence Williams is a public health nurse for Philadelphia Nurse Family Partnership and will graduate from FNU's Certified Nurse-Midwifery program in 2018. She was recently selected to be the student speaker at the National Black Nurses Association's 44th Annual Institute and Conference in Memphis, Tenn., August 2-7, 2016. Her abstract proposal was selected among hundreds of student submissions from across the U.S. to be presented at the conference.