At the heart of Frontier Nursing University is a talented and diverse community of students, alumni, faculty, staff, Couriers and preceptors. Spotlight blogs feature members of our FNU community that are focused on the mission of educating nurse-midwives and nurse practitioners to deliver quality health care to underserved and rural populations.
Denise Barrett is the Director of Development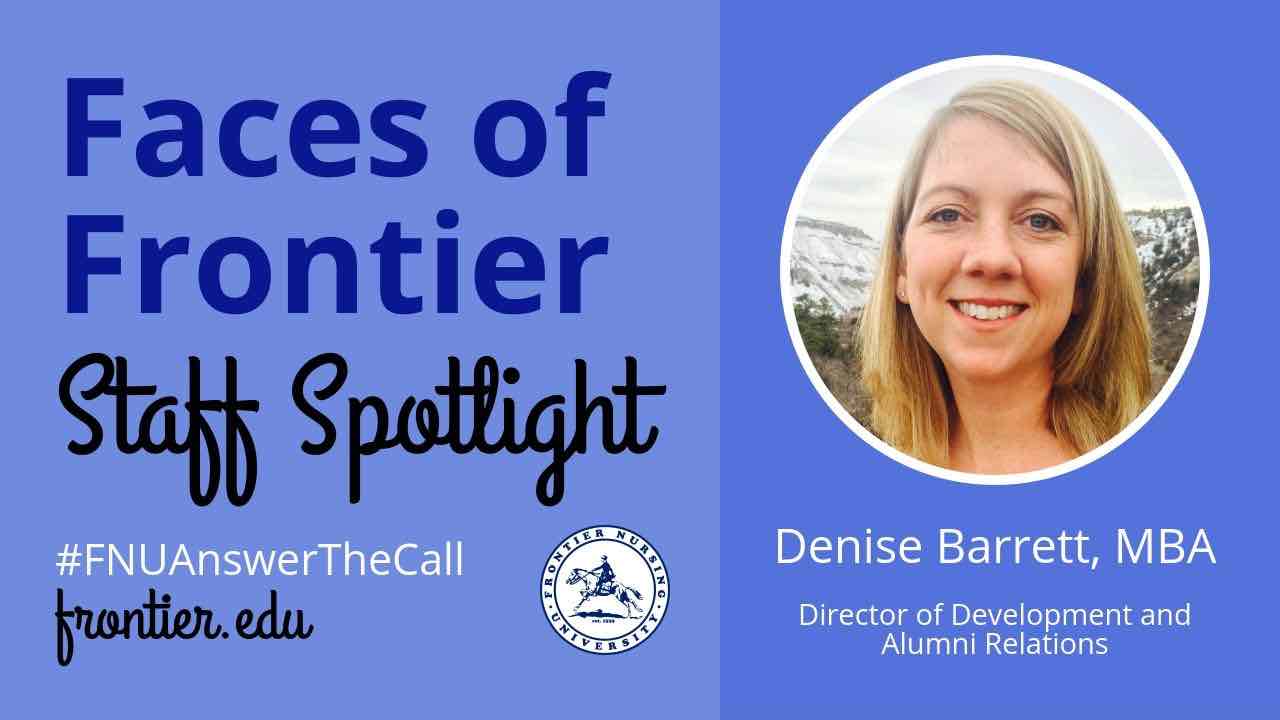 and Alumni Relations at Frontier Nursing University (FNU) where she has worked for 10 years. In this position, Denise is tasked with telling the story of Frontier, its students, faculty and alumni and in doing so, appealing to donors to support the FNU mission.
The development team produces many communications pieces in order to steward FNU's current donors and attract new people to its cause. According to Denise, each year they raise an average of $3 million in individual gifts and private and federal grants to support the endowment, student scholarships, campus improvements, technology and other special projects.
In her 10 years with FNU, the school has been awarded more than $10 million in grant funding to support the development of the Bridge program, the start-up of the post-master's DNP, many student scholarships and also technology.
"It's exciting to be part of the grants, because it allows me to be involved in the development of project ideas and then see them implemented," said Denise. "It's very rewarding."
Denise works with a team that alsomanages alumni communications and programming, the Courier internship program, and operation of the Wendover Bed and Breakfast Inn.
Denise decided to work with FNU after an 18-month position in the corporate world left her unfulfilled. After starting her development work with a regional foundation, she discovered Frontier when her family moved to Kentucky.
"I originally chose to work with Frontier because it was a great opportunity to be the first development staff member for the school," said Denise. "I continue to work with Frontier because our mission is so critical for health care in the United States and beyond, and because it is an exciting, growing institution that provides so much opportunity for growth and new challenges."
Denise's favorite part about working at FNU is her co-workers, many of whom she considers her closest friends.
Outside of work, Denise and her family enjoy hiking, rock climbing, camping and snowboarding. Thanks to Frontier's flexibility, she is able to work from home in Durango, CO, which is her family's dream location. She lives with her husband, Matthew and their three kids: Keenan (7), Hattie and Alton (3 year old twins).