At the heart of Frontier Nursing University is a talented and diverse community of students, alumni, faculty, staff, Couriers and preceptors. Spotlight blogs feature members of our FNU community that are focused on the mission of educating nurse-midwives and nurse practitioners to deliver quality health care to underserved and rural populations.
Frontier Nursing University (FNU) has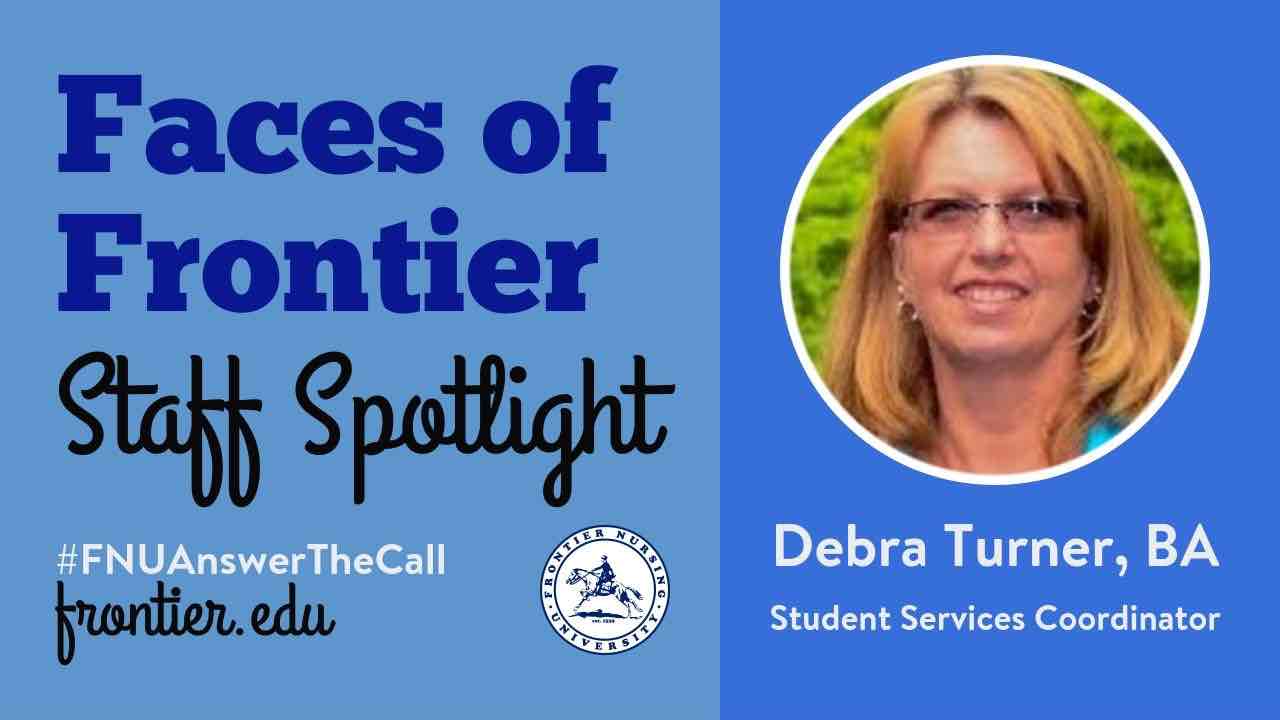 always been a part of Debra Turner's life. Debra was born at Hyden Hospital in Hyden, Ky., the home of FNU's historic campus. FNU Founder Mary Breckinridge opened the hospital in 1928 to provide health care to mothers and babies in rural Eastern Kentucky. Known as Frontier Nursing Service (FNS) at the time, Debra grew up under the care of FNS nurses. Today, she is the student services coordinator at Frontier.
"FNU is a part of my heritage," said Debra. "When the student services coordinator position opened up nine years ago, I knew I wanted to apply. Coming back to Hospital Hill after so many years for my interview was like coming home. Memories came rushing back like rewinding a tape."
Debra "Answers The Call" by helping students begin their FNU journey with a positive orientation experience and planning commencement. She maintains Pre-Bound materials and webpages and was essential in the creation of a Pre-Bound course in CANVAS. Debra works behind the scenes to make sure the classrooms are stocked with supplies and works closely with Student Council representatives to ensure all students have proper representation.
According to Debra, the best part of her job is seeing students progress from orientation to successfully completing their programs. She also works hard to make sure FNU employees feel appreciated and keeps them informed of community involvement opportunities. Debra wrote the proposal for a $1000 scholarship for a Leslie County High School senior who is pursing nursing as a career. It was approved and Debra now presents the award each school year on awards day.
Debra serves on a number of FNU committees and represents FNU at monthly Hyden-Leslie County Chamber of Commerce meetings & other community events. She serves as secretary of the Mary Breckinridge Festival planning committee, which is a community ran event. In her free time, she volunteers for the Trails of Leslie County Initiative Program. In the past, she has assisted with a Bible Study program for inmates in the Leslie County Detention Center and taught Sunday School as well as Vacation Bible School at her church.
According to Debra, her greatest accomplishment has been raising two boys and seeing them mature into men and leaders. She is looking forward to meeting her first grandbaby January 2, 2017. Debra also manages a small home-based business and enjoys traveling to historical sites, seeing new places and researching her family genealogy. She even finds time for one trip to the beach each year!
Debra has a bachelor's degree in Human Services & Counseling from Lindsey Wilson College and an Associate of Arts and Certificate in Business and Office Technology from Hazard Community College.
"I love that FNU is still carrying on the mission that started it all," said Debra. "It's a privilege to work for a organization with a mission to serve the rural and underserved population."
The FNU community is thankful to have hardworking staff members like Debra!