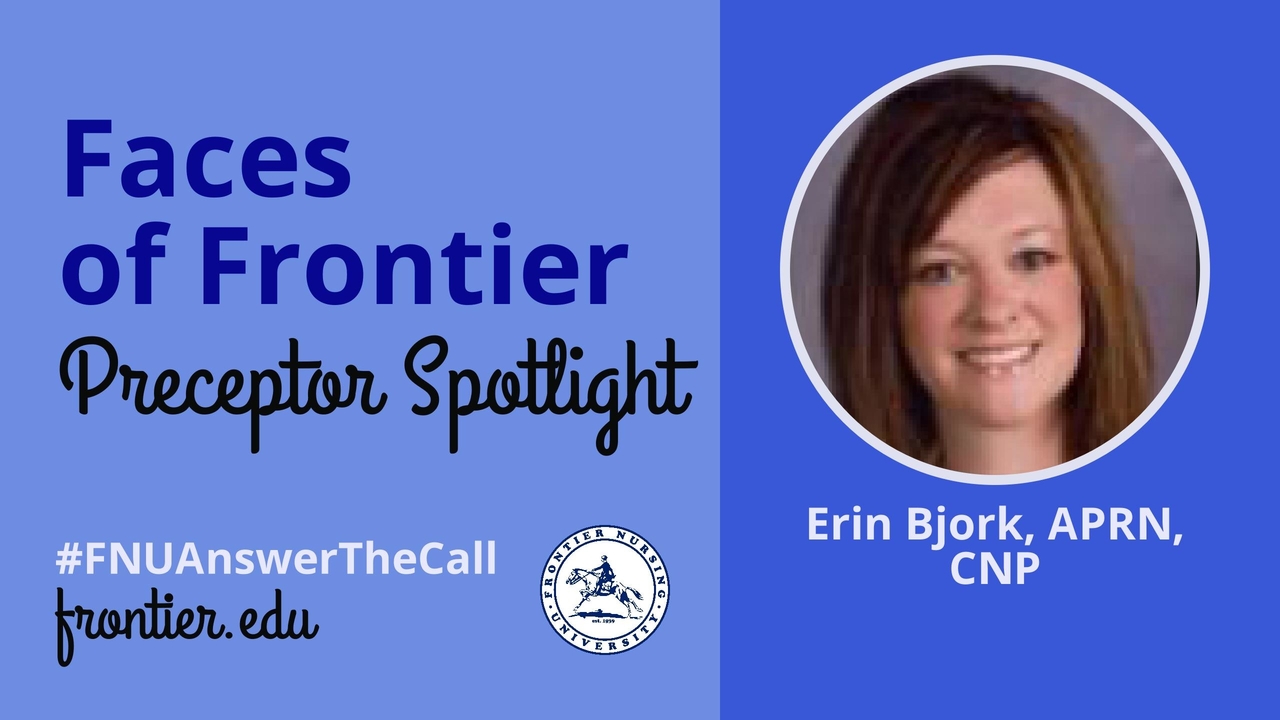 At the heart of Frontier Nursing University is a talented and diverse community of students, alumni, faculty, staff, Couriers and preceptors. Spotlight blogs feature members of our FNU community that are focused on the mission of educating nurse-midwives and nurse practitioners to deliver quality health care to underserved and rural populations.
In December 2015, FNU honored Erin Bjork, APRN, CNP, from Melrose, Minn., as the featured preceptor for the term. Erin has been a preceptor with Frontier since 2011 and has taken on numerous students, with another student slated to begin winter term.
Erin has demonstrated her dedication to the nurse practitioner profession as a clinical educator, and students enjoy and respect her instruction. She has precepted students on very short notice, and responds immediately to calls for urgent placement from FNU's Regional Clinical Faculty in Minnesota, Nancy Pesta Walsh.
Carrying out FNU's mission and emphasis on rural and underserved populations, Erin has served her small rural community for more than eight years. She provides full scope NP practice, from pediatrics to elderly, and care to a large Hispanic immigrant population.
Erin is actively engaged with her employer, Centracare Health System, and its efforts to keep clinics and hospitals in small towns. With a strong influence in Central Minnesota, CentraCare strives to improve health care for those living in rural communities. The system is recognized as a National Health Service Corps site (NHSC) and a Health Professional Shortage Area (HPSA).
Recent FNU graduate, Heather Christenson, FNP student class 116, describes Erin as instrumental in her learning as a nurse practitioner. "Ms. Bjork is efficient and caring, truly listening and explaining things to her patients," shared Heather.