At the heart of Frontier Nursing University is a talented and diverse community of students, alumni, faculty, staff, Couriers and preceptors. Spotlight blogs feature members of our FNU community that are focused on the mission of educating nurse-midwives and nurse practitioners to deliver quality health care to underserved and rural populations.
Frontier Nursing University (FNU)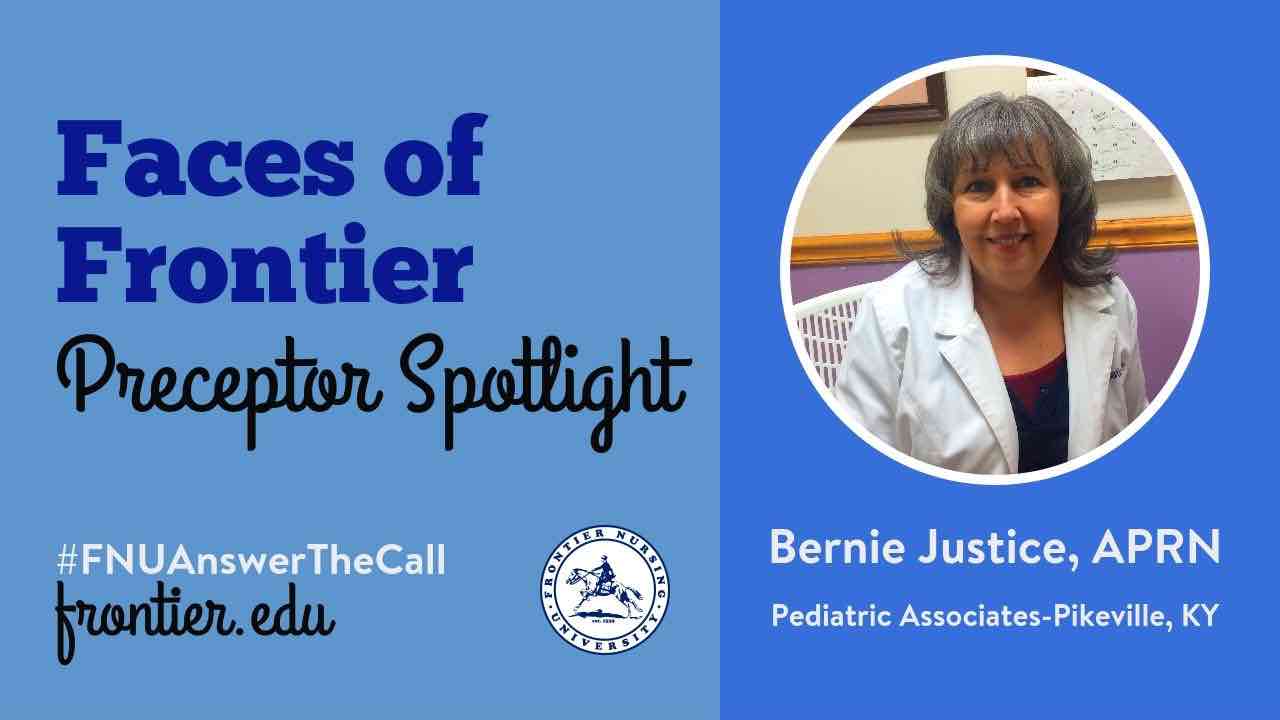 preceptor Bernie Justice, APRN, from Pediatrics Associates of Pikeville, Ky., was honored as FNU's "Featured Preceptor" earlier this summer. Regional Clinical Faculty Melanie Morrison nominated Bernie for the honor.
"Bernie has willingly served so many students that I have now lost count," said Melanie. "Despite the time constraints of a busy practice, Bernie has graciously given of her time and shared her expertise with FNU students from Kentucky, Virginia and West Virginia. Bernie serves as a role model and consistently promotes clinical and professional competency. She actively engages students in the guided experience of applying knowledge to practice. Bernie's 'gift' of precepting is priceless."
Bernie has been a nurse for 25 years and is board certified by the ​American Association of Nurse Practitioners. Embodying Frontier's mission of serving rural and underserved populations, she has provided care as a nurse practitioner in pediatrics in Pikeville, Ky., since 2009. Pikeville, with a population just under 7,000, is located approximately 80 miles from FNU's Hyden campus, near the Kentucky-Virginia border.
Bernie's former preceptees have been quick to offer their praise. Kristie Senters, FNP class 121, describes Bernie as "truly a gifted provider and mentor" and calls her "patient and kind in the most demanding situations." Amanda Farmer, FNP class 118, describes her as "a wonderful teacher."
Sharon Deel, FNP class 112, appreciated the rapport she built with Bernie.
"My experience with pediatrics was limited, and I was a little nervous. She talked me through the first couple of exams and put me at ease," said Sharon. "I also admire how she remembers her patients and spends time talking with them and their parents, which is a perfect example of developing a trusting relationship."
Thank you for your dedication to our FNU community, Bernie!
As a Featured Preceptor, Bernie's story was shared on the FNU website, and we treated her to a Texas Roadhouse gift card as a small token of our appreciation.