Mother's Day is an important holiday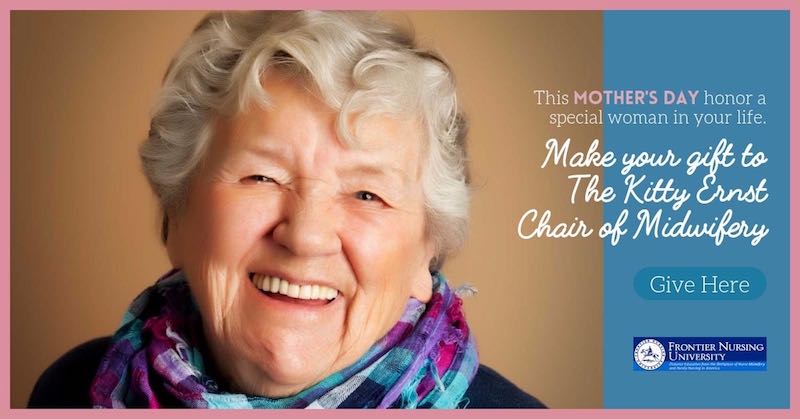 to the Frontier Nursing University community. Our mission of educating nurse-midwives and nurse practitioners to deliver quality care has persevered for decades. With thousands of FNU nurse-midwives providing compassionate maternity care around the globe, mothers and babies continue to be a core focus.
We have a number of generous supporters of our mission that we are forever thankful for. However, we still need help. This year as we celebrate Mother's Day, we are offering friends and family of FNU the opportunity to support Frontier with a special gift to the Kitty Ernst Chair of Midwifery.
When Kitty graduated from the Frontier Graduate School of Midwifery in 1951 and was handed her certificate by Mary Breckinridge, she was instructed to,"Go forth my child and serve mothers and babies." She did just that, and we will now honor her life's work by endowing a faculty position in her honor. The Kitty Ernst Chair of Midwifery will serve countless mothers and babies into the future.
This special Mother's Day campaign also offers an opportunity to honor other special women in your life. Simply make your gift today and we will send your honoree a special Mother's Day card indicating your gift in her honor. We will also wish Happy Mother's Day to each wonderful woman on Facebook. All who donate $1,000 or more will also receive a special commemorative pin to show your commitment to the future of nurse-midwifery.
Please join us in honoring the legacy of this amazing woman and special women in your life by making your tax-deductible donation to the Kitty Ernst Chair of Midwifery today.
Honor a special woman in your life and support the Kitty Ernst Chair of Midwifery: visit http://www.frontier.edu/mothersday.