Michael Claussen, FNU Development Officer
Frontier Nursing University hosted its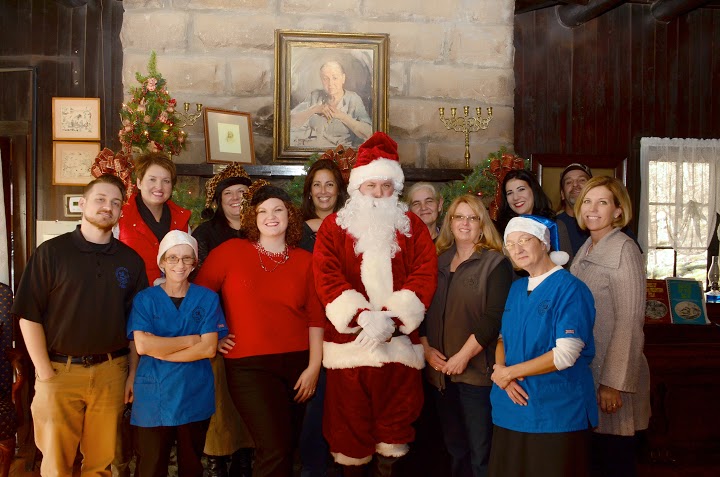 annual holiday party at Wendover Bed & Breakfast Inn on Saturday, Dec. 5, to benefit local families in need in the Leslie County, Ky., area. Guests were invited to take a step back in time and enjoy snacks and fun while they gathered around FNU's one-of-a-kind nurse's tree.
More than 100 people attended the festive gathering. Guests were treated to Frontier stories portrayed by Leslie County High School Drama students, and the Leslie County High School Choir performed a wonderful Christmas program. Christmas ornament crafts were a big hit with guests of all ages!
Many of the guests who stay at the Wendover Bed and Breakfast Inn specifically come for the home-cooked meals that are served in the Big house. A delicious sampling of chicken and dumplings, meatloaf, pulled pork and peach cobbler were featured at the special "Taste of Wendover." With two kinds of hot chocolate – white chocolate with peppermint and rich milk chocolate – served with peanut butter and chocolate chip cookies, everyone had a "sweet" time.
Santa also made his way from the North Pole to Wendover to the delight of the children in attendance. Each child received a special gift bag, a longstanding tradition at the "Big House," and a copy of one of two beautifully illustrated children's books, Katie Caught a Cold or Sadie's Sore Throat, written and donated to FNU by a former Courier, Charlotte Cowan, MD.
The holiday celebration marked 90 years since FNU founder Mary Breckinridge hosted the first Christmas party at her log cabin home at Wendover. All of Leslie County, Ky., was invited to the Big House in 1925 for hams, pies and a retreat from the cold thanks to the log home's large fireplaces.
Below is a review of the Bed and Breakfast by a party attendee and former Leslie County resident, Amy Pennington Brudnicki.
"Sometimes in your travels, you come across a place that's so special, you know that one trip won't be near enough. I found this to be true recently when I returned to the Big House for a weekend visit with my Mom, sister and niece.
The Wendover Bed & Breakfast was decorated beautifully for Christmas, both the house and grounds. And just like my last visit, the meals were delicious.
Unlike my last visit, I brought my family this time – one of which was my eight-year-old niece. It was nice to share this experience with her because we weren't immersed in technology. We played cards, walked down by the river, took pictures, and hiked the mountain around the house. When it was time for bed, we shared stories about events that likely happened in the Big House over the years. I was able to tell her about the legacy of Mary Breckinridge, about the saddle bags on the horses and how children used to think they bulged because they were holding babies, and about our family's own first-hand experience with Frontier Nursing School.
I told her I really liked the Big House. She told me she really liked bacon. It's the small things in life that make you smile and that certainly made me smile! Then she said, "I like talking with you." If you have kids, I don't have to tell you how much that statement meant to me. My reason in sharing this is to point out the importance of stepping back and focusing on the genuine simplicity of things. The Big House is perfect for that. You can't help but to reflect when you're surrounded by so much nature and history.
Someday when my niece is older, she won't recall an App or a video game. But she will remember this trip and the memories we made just enjoying the moment. I love technology as much as the next gal, but sometimes, it's nice to get back to the basics, to get back to what really matters and make lasting memories.
The Big House has quickly become a favorite destination of mine. If you have an appreciation of Appalachia and discovering its genuine beauty, check out the Wendover Bed & Breakfast Inn. My hunch is that you'll love it as much as I do. And just like me, you'll make plans to return . . .
Amy Pennington Brudnicki
Richmond, KY