At the heart of Frontier Nursing University is a talented and diverse community of students, alumni, faculty, staff, Couriers and preceptors. Spotlight blogs feature members of our FNU community that are focused on the mission of educating nurse-midwives and nurse practitioners to deliver quality health care to underserved and rural populations.
In 1928, Mary Breckinridge, founder of Frontier Nursing University established the Courier Program, recruiting young people to come work in the Kentucky Mountains and learn about service to humanity. Couriers escorted guests safely through remote terrain, delivered medical supplies to remote outpost clinics, and helped nurse-midwives during home visits and births. Frontier has benefited tremendously from the 1,600 Couriers who have served since 1928.
Rebecca Stanevich learned of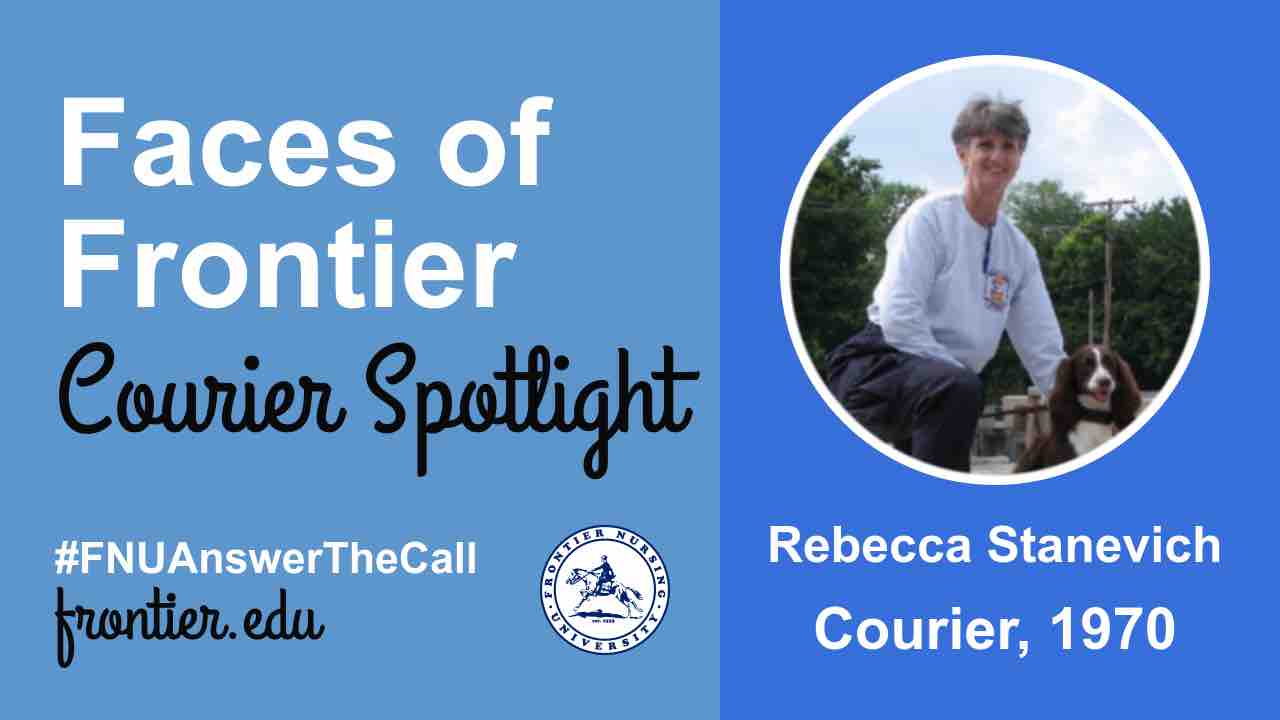 Frontier Nursing Service as she was flipping through an old book about different occupations, one of which was nursing. The Courier Program at FNS interested Rebecca because she wanted to learn more about the profession of nurse-midwifery. With the help of her mother and a neighbor, she had the opportunity to travel to Wendover in 1970 to serve as a FNS Courier alongside 4 or 5 other young people her age for six weeks.
As a Courier, Rebecca remembers driving for a district nurse, who had recently been injured in a car wreck, in the Wendover area. She accompanied the nurse on visits and was able to see everything that a district nurse did in the community. She remembers walking into log homes or shanties on visits with the nurse, many of which had dirt floors, which was something very different than what Rebecca was used to seeing.
One of Rebecca's most memorable experiences is a driving test that the Couriers did with Kate Ireland, a staff member at FNS who worked with the Courier Program. Rebecca had prepared herself prior to traveling to Wendover by learning how to drive stick shift, something she had a feeling would be useful in Wendover. Kate Ireland had the Couriers drive down a very steep hill and engage the emergency brake upon her command. It was an nerve-racking experience that Rebecca will never forget.
Before coming to Kentucky, Rebecca was under the impression that the area would be similar to that of Western Maryland, where her parents were both from and where she spent much of her childhood. However, after spending time in Eastern Kentucky, Rebecca was amazed at the differences. During her six weeks in Wendover, something that really stuck out to Rebecca was the community's need for social services.
"The people were strong overall, but too weak to get out of the spiral. I don't know how they would have survived without social services."
Although she did not become a nurse-midwife, Rebecca did pursue a career in the field of nursing. Her summer as a Courier provided her with a personal growth opportunity that she still carries with her today. It impacted her political views, career choice, and has provided her with personal strength during difficult times. In fact, one of the most valuable things that has stuck with her is the strength of people she met there.
"Seeing the people in Leslie County be so positive with so little makes me feel like people are really strong. We can do a lot of things."
Rebecca is still involved with the Courier Program and serves as a member of the Courier Advisory Committee.