At the heart of Frontier Nursing University is a talented and diverse community of students, alumni, faculty, staff, Couriers and preceptors. Spotlight blogs feature members of our FNU community that are focused on the mission of educating nurse-midwives and nurse practitioners to deliver quality health care to underserved and rural populations.
In 1928, Mary Breckinridge, founder of Frontier Nursing University established the Courier Program, recruiting young people to come work in the Kentucky Mountains and learn about service to humanity. Couriers escorted guests safely through remote terrain, delivered medical supplies to remote outpost clinics, and helped nurse-midwives during home visits and births. Frontier has benefited tremendously from the 1,600 Couriers who have served since 1928.
While searching for her own life's future direction, Marian Leibold saw the perfect opportunity to pursue a summer filled with adventure and service by traveling to help where her help could be used–Leslie County, KY. So in 1977, she, like many before her, embarked on her adventure in Wendover as a part of the Courier Program.
From her first day at Wendover, Marian felt as if she belonged. In a journal entry, Marian reflected:
"The veil of silver mist rising over the rich green mountains, the apples on the drive, the dusty pebbles on the road, the nasturtiums which leapt colorfully out of the cracks in the stone wall, the abundance of purple joe-pye weed behind the garden house, an old shed with sleeping tools, the chicken coup still offering up eggs for breakfast all invited me in…The first day we were introduced to our quarters and the ways of life here and our mission as Couriers."
Although she never met Mary Breckenridge,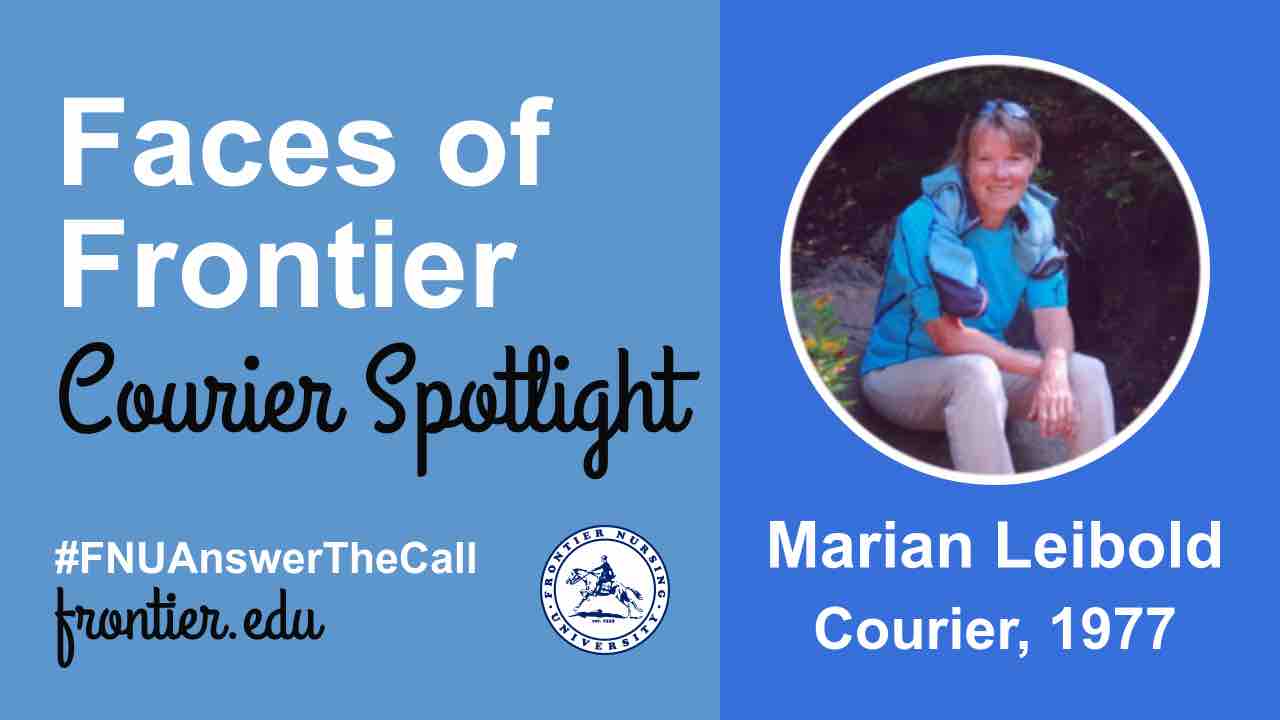 Marian felt a strong connection with the spirit of her work. During her time in the program, she learned about Mary Breckenridge's life, experiences, passions, and struggles. In fact, one of the many aspects of the Courier Program that attracted Marian was its foundation by a woman.
"I was moved by her willingness to leave her own comfort zone to bring a better life to others. Such a courageous move is born out of tremendous character, conviction and compassion."
As a Courier, Marian shared many experiences with other Couriers, nurses, and local residents, all of which left lasting impressions. She was at a point in her life where she was ripe with big questions about both herself and the world, so Marian stumbled upon the Courier Program at the perfect time.
Her time as a Courier impacted her career path as well. Marian met a nurse in the Midwifery program and later joined this nurse in Lesotho, Africa. In Africa, she learned about the nurse's work and medical missions.
Later, Marian attended medical school at the University of Cincinnati. Just before finishing, though, she decided to turn her attention to her family; she now lives with her husband and four children in Cincinnati.
Marian continues to stay involved with Frontier Nursing University and the Courier Program by hosting and planning the annual Cincy committee dinner, personally supporting Frontier, and serving on the Courier Advisory Committee.
Marian strongly believes that it is important for young adults to have mentors, and she is grateful that Frontier Nursing University's Courier Program was able to serve in that role for others, just as it had for her.
She speaks to how the Courier Program teaches the rewards of deep and lasting commitments, as well as the value of traveling outside of your comfort zone to experience other perspectives on life and using those experiences to better yourself and your communities. In this way, Marian believes, the Courier Program leaves lasting impacts on the Couriers who come to serve.