At the heart of Frontier Nursing University is a talented and diverse community of students, alumni, faculty, staff, Couriers and preceptors. Spotlight blogs feature members of our FNU community that are focused on the mission of educating nurse-midwives and nurse practitioners to deliver quality health care to underserved and rural populations.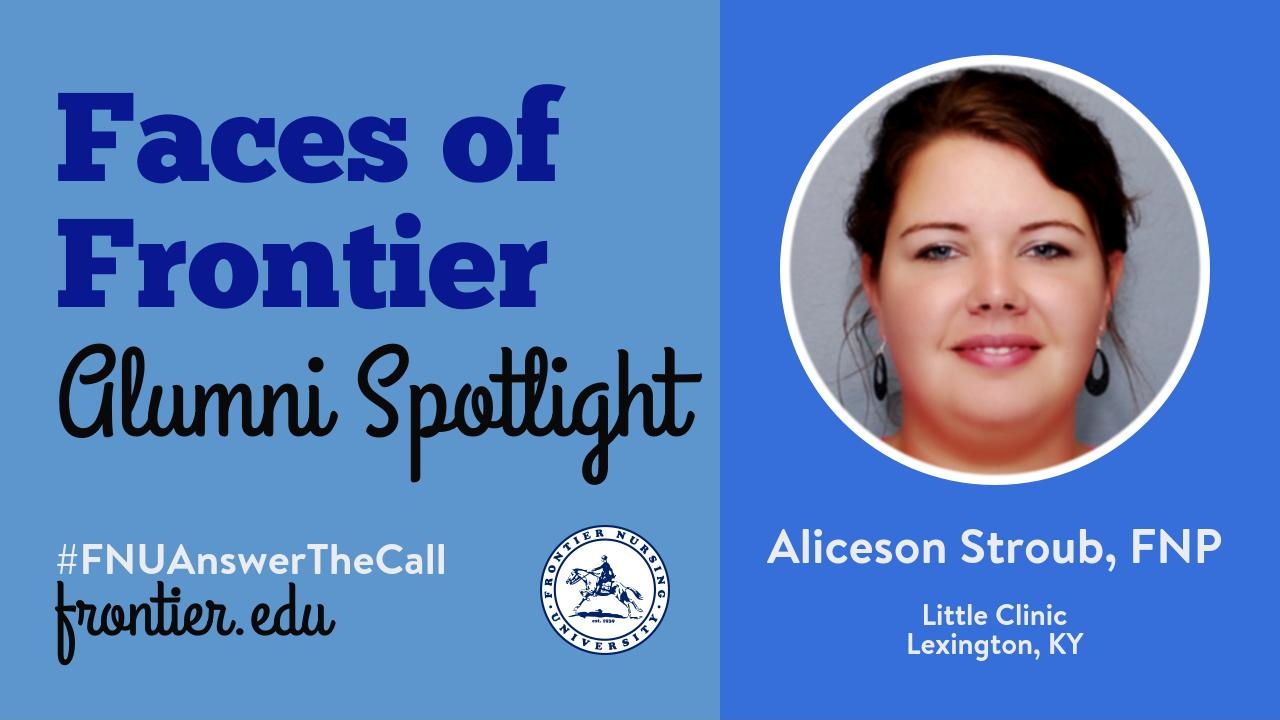 Aliceson Stroub had been an ICU RN at the University of Kentucky for four years when she decided she wanted to pursue a new direction in nursing. She learned about nurse-midwifery in college when a representative from Frontier Nursing University (FNU) spoke to her class and piqued her interest in the specialty. Ultimately, however, she decided that pursuing a family nurse practitioner degree was a better fit and graduated from FNU in 2012.
"I chose FNU because of the wonderful history and because of the flexibility that fit my family and my lifestyle. I felt like it was a place I wanted to be," said Aliceson. "I enjoyed being on campus and feeling connected to the history, the founder (Mary Breckinridge) and the students who attended before me."
After graduation, Aliceson worked in a federally qualified primary care clinic in Maysville, Ky. She later moved to a Kroger Little Clinic and is now with MD2U, providing primary care to homebound and home limited individuals. She values being in a position that allows her to focus on rural and underserved populations.
Aliceson enjoys educating patients, spending time with them and knowing she is making a difference in their lives. She focuses on the patient as a whole and believes educating leads to better health and fewer visits. She was a preceptor for FNU students in the past and hopes to precept again as a primary care nurse at MD2U.
"There are many reasons to go to FNU—the history, the flexibility, the school's track record, and FNU's focus on the patient," said Aliceson.
Aliceson values the connections she made at FNU and keeps in touch with friends across the country. In fact, her classmate Kendra Adkisson helped deliver her baby. Aliceson met Kendra during Frontier Bound, FNU's four-day orientation program, and Kendra is now at WomanKind Midwives in Lexington, Ky.
Thank you, Aliceson, for your commitment to FNU and its legacy of serving rural and underserved populations in Kentucky!
See Aliceson here on ABC 36 News in Lexington: