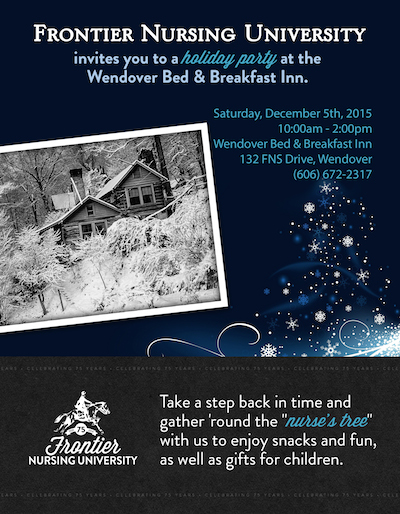 Frontier Nursing University (FNU) will be hosting a holiday party at Wendover Bed & Breakfast Inn on Saturday, Dec. 5, from 10:00a.m.-2:00 p.m. to benefit local families in need in the Leslie County, Ky., area. Guests are invited to take a step back in time and enjoy snacks and fun while gathering around FNU's one-of-a-kind nurse's tree. Children who attend will receive a gift, a longstanding tradition at the "Big House", located at 132 FNS Drive in Wendover.
The vision for the event is to support families in need with toys, books and warm clothing. The celebration will include storytelling, singing, craft stations and local foods. Children will have an opportunity to visit with Santa Claus, and guests will be treated with an appearance by the Leslie County High School Drama Class and Choir.
This holiday celebration marks 90 years since FNU founder Mary Breckinridge hosted the first Christmas party at her log cabin home at Wendover. All of Leslie County, Ky., was invited to the Big House in 1925 for hams, pies and a retreat from the cold thanks to the log home's large fireplaces.
More than 500 people attended, arriving by mule-drawn farm wagons. Breckinridge and other local women collected, hauled and sewed toys for weeks in advance so that each child could choose a gift from under the Christmas tree.
Today, Wendover Bed & Breakfast Inn is owned and operated by Frontier Nursing University and is a National Historic Landmark.
"It's an honor to carry on Mary Breckinridge's legacy with a special holiday tradition at the Big House," said FNU President Dr. Susan Stone. "We hope to make the Wendover party an annual event that local families enjoy for many years to come."
###
Offering the #1 Nurse-Midwifery program in the United States, as ranked by U.S. News & World Report, FNU is passionate about educating nurse-midwives to serve women and families in all communities, especially rural and underserved areas. FNU offers graduate Nurse-Midwifery and Nurse Practitioner programs that can be pursued full- or part-time with the student's home community serving as the classroom. To learn more about FNU and the programs and degrees offered, please visit Frontier.edu.