Join us on a journey…Experience the rich history of Frontier Nursing University
The faculty and staff at FNU are excited to be launching a new historical timeline that will allow you to walk through our rich past.
Our history is full of dedicated people who have been driven to meet the health care needs of women, children and families. We are excited to invite you to take an in-depth look at this amazing history of pioneering accomplishments and milestone events that have occurred not only for our organization, but also within nurse-midwifery and women's care.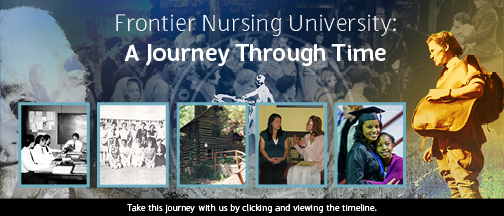 Our new historical timeline will allow you to learn more about our founder, Mary Breckinridge, and how that same devoted character, passion and dedication
for delivering quality health care to underserved and rural populations still resides in the hearts and minds of our students and graduates today.
As a pioneer in graduate nursing and nurse-midwifery education, we remain at the forefront of innovation and technology, offering distance education to nurses with an interest in nurse-midwifery, family health and women's health specialties. For more information on any of our programs, visit us at www.frontier.edu.
Will you be a part of our next chapter?