At the heart of Frontier Nursing University is a talented and diverse community of students, alumni, faculty, staff, Couriers and preceptors. Spotlight blogs feature members of our FNU community that are focused on the mission of educating nurse-midwives and nurse practitioners to deliver quality health care to underserved and rural populations.
In 1928, Mary Breckinridge, founder of Frontier Nursing University established the Courier Program, recruiting young people to come work in the Kentucky Mountains and learn about service to humanity. Couriers escorted guests safely through remote terrain, delivered medical supplies to remote outpost clinics, and helped nurse-midwives during home visits and births. Frontier has benefited tremendously from the 1,600 Couriers who have served since 1928.
Ruth Venable spent time as a Courier in the Summer of 1955. She spent time at both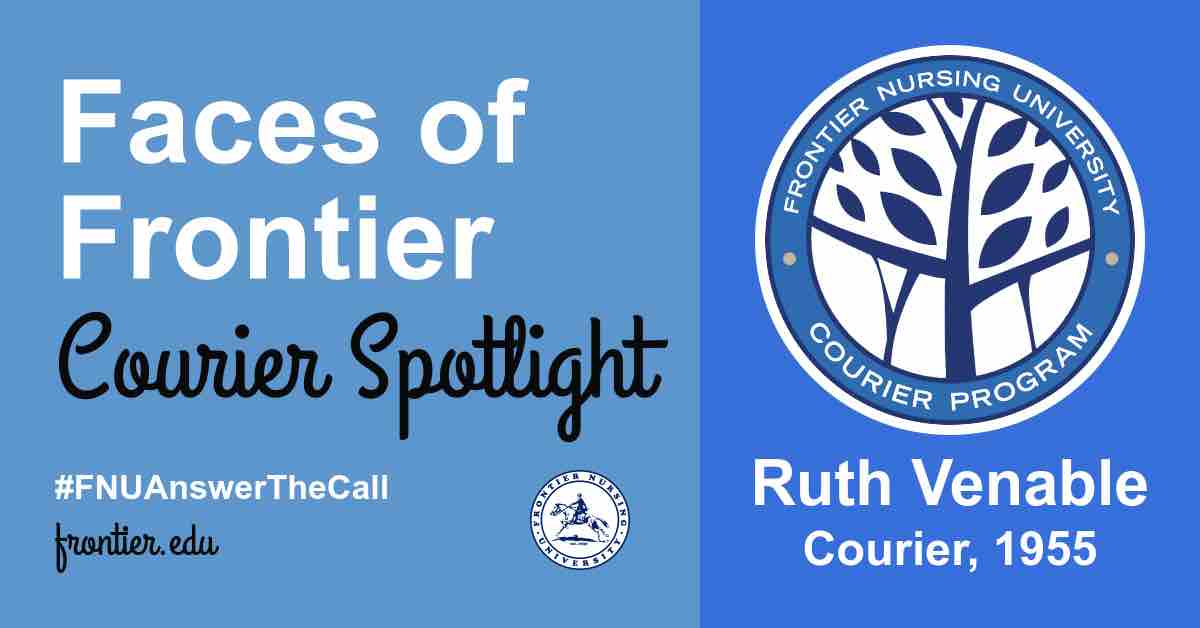 Red Bird Clinic and at Mary Breckinridge Hospital, but the majority of her time was spent at Wendover. As a Courier, Ruth served tea, took care of horses, and enjoyed the company of other Couriers and Wendover staff.
Ruth recalls sleeping on the porch with bats roosted in the shutters while at Wendover. This did not bother her because she knew that the bats kept to themselves.
At the end of Ruth's eight weeks in Wendover, Frontier Nursing Service wanted her to stay and study radiology. However, at that point in time, Ruth was not interested in staying in the area, and so she returned home.
Ruth enjoyed her time as a Courier very much, but did not end up going into the medical field. Her sister, Edith Conyers, on the other hand, who was also a Courier in the early 1960's, went on to attend nursing school and become a nurse in Lexington.
Ruth has made a return visit to Wendover and enjoyed "Wide Neighborhoods" so much that she would love to read it again! She remains a supporter of FNU to this day.