At the heart of Frontier Nursing University is a talented and diverse community of students, alumni, faculty, staff, Couriers and preceptors. Spotlight blogs feature members of our FNU community that are focused on the mission of educating nurse-midwives and nurse practitioners to deliver quality health care to underserved and rural populations.
In 1928, Mary Breckinridge, founder of Frontier Nursing University established the Courier Program, recruiting young people to come work in the Kentucky Mountains and learn about service to humanity. Couriers escorted guests safely through remote terrain, delivered medical supplies to remote outpost clinics, and helped nurse-midwives during home visits and births. Frontier has benefited tremendously from the 1,600 Couriers who have served since 1928.
Mary White was a Courier at Wendover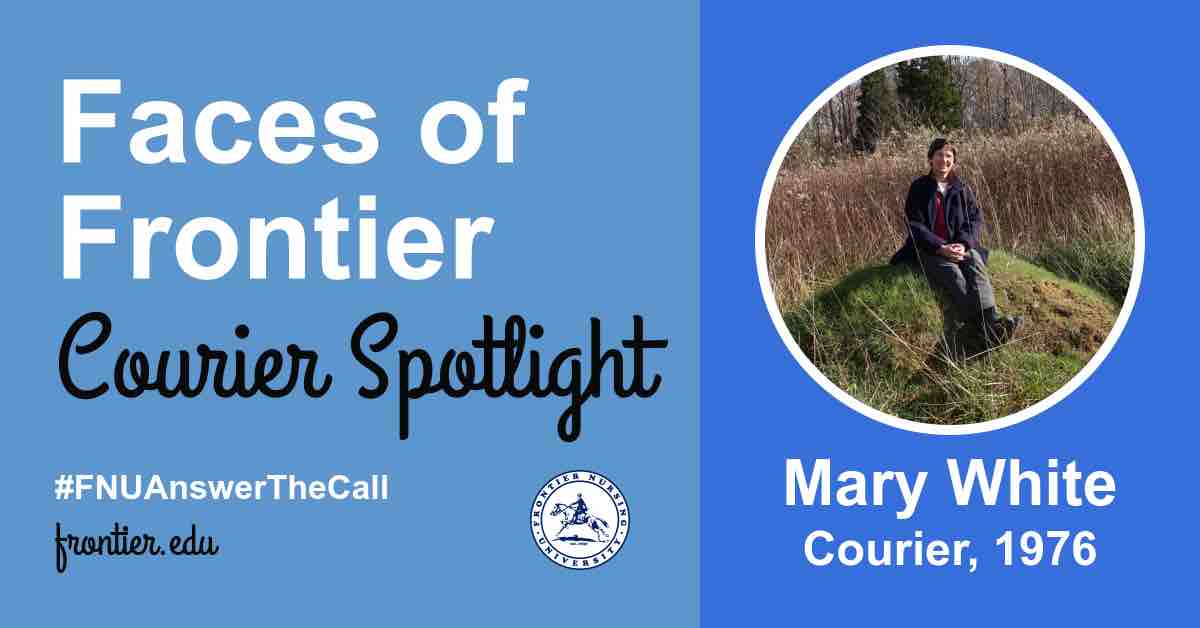 in the fall of 1976. She grew up in Mclean Virginia, close to Washington, D.C where many Courier alumni lived. She heard about the Courier Program from her next door neighbor, who was a Courier when Mary Breckinridge was alive. Mary loved horses, and the FNS horse-riding midwives captured her imagination.
Mary recalls her time as a Courier as largely unsupervised, perhaps due to the temporary lack of a Courier Coordinator. Nonetheless, the Couriers found plenty of things to keep them busy. Several times a week, Mary drove the Frontier Nursing Service Jeeps to make deliveries. She drove children to Children's Hospital in Cincinnati, made house calls with FNS nurses, and rescued the garden below the big house that had long been buried in weeds.
In her spare time as a Courier, Mary learned to weave baskets from white oak splits, was introduced to Pentecostal church traditions, gained an appreciation for quilting and twig furniture, and was once permitted to ride deep into the coal mine around the corner from the Big House—an area littered with fossils. She especially appreciated long conversations with Brownie and Kate Ireland over outstanding meals in the lovely old dining room in the Big House.
Mary has never forgotten her introduction to Appalachian culture, the health needs of the very poor, and coal country history and politics. While she didn't know it at the time, in hindsight, this experience was clearly one of several that led her to a career in medical ethics and global health. She is now in her twentieth year teaching in the medical school at Wright State University, in Dayton, Ohio.