At the heart of Frontier Nursing University is a talented and diverse community of students, alumni, faculty, staff, Couriers and preceptors. Spotlight blogs feature members of our FNU community that are focused on the mission of educating nurse-midwives and nurse practitioners to deliver quality health care to underserved and rural populations.
In 1928, Mary Breckinridge, founder of Frontier Nursing University established the Courier Program, recruiting young people to come work in the Kentucky Mountains and learn about service to humanity. Couriers escorted guests safely through remote terrain, delivered medical supplies to remote outpost clinics, and helped nurse-midwives during home visits and births. Frontier has benefited tremendously from the 1,600 Couriers who have served since 1928.
When she was 20 years old, Maggie traveled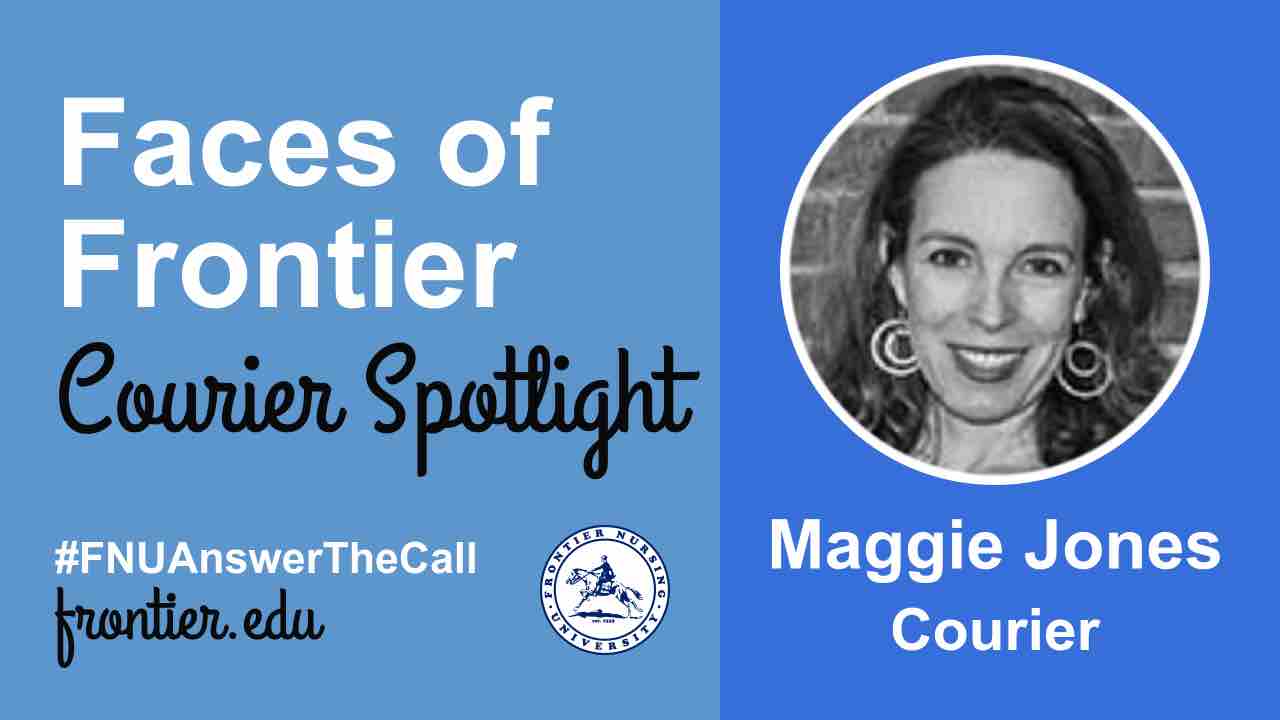 from Louisville, Kentucky to Wendover in the mountains. Being from Kentucky, Maggie and her family had heard of Frontier Nursing Service and the Courier Program long before she became a Courier. She had thoughts of joining the Peace Corps, and she saw some similarities in the Courier Program so she decided to join.
Although she was from Kentucky, Maggie had never been to the mountains of Eastern Kentucky. She knew nothing about Appalachia before she participated in the Courier Program. "At the time I went to FNS, no place had felt more different to me than Eastern Kentucky… I had my first sense of culture shock there."
Although it seemed like a world very different from her own, by the time she left the program, she had a special place in her heart for Appalachia.
She spent her time as a Courier dropping off supplies at the clinics and hospitals, driving the infamous FNS jeeps, shadowing a social worker, and getting to know the other Couriers, midwifery students, and members of the community. Maggie particularly remembers spending time with the Wooton family who lived down the road from Wendover–playing music and square dancing.
Although she was interested in poverty, women's issues, and worlds outside of her own prior to becoming a Courier, her time in the Courier Program strengthened and grew these interests.
"Staying there and feeling very immersed, getting to know people there, midwives and people who lived there, I just felt part of this community."
Her feelings and experiences as a Courier helped to influence her life in terms of what she wanted to do professionally in the future. The things that she experienced and witnessed as a Courier changed her direction from healthcare to journalism.
Maggie is now working as a freelance journalist who writes about race, poverty, and social justice issues. Since she has left the Courier Program, she has written a lot about health, specifically reproductive health. She would love to return to Eastern Kentucky to write stories, but she has not yet done so.
Her experiences and things that she learned during the Courier Program continue to have an influence in both her writing and her life today.
"One of the things that I liked the most about it is that it didn't feel like we were just outsiders. It was a few months but it really had an impact on me… It was one of those life changing events and I am so glad that I did it. It was a rare experience."