At the heart of Frontier Nursing University is a talented and diverse community of students, alumni, faculty, staff, Couriers and preceptors. Spotlight blogs feature members of our FNU community that are focused on the mission of educating nurse-midwives and nurse practitioners to deliver quality health care to underserved and rural populations.
In 1928, Mary Breckinridge, founder of Frontier Nursing University established the Courier Program, recruiting young people to come work in the Kentucky Mountains and learn about service to humanity. Couriers escorted guests safely through remote terrain, delivered medical supplies to remote outpost clinics, and helped nurse-midwives during home visits and births. Frontier has benefited tremendously from the 1,600 Couriers who have served since 1928.
Cynthia heard about the Courier Program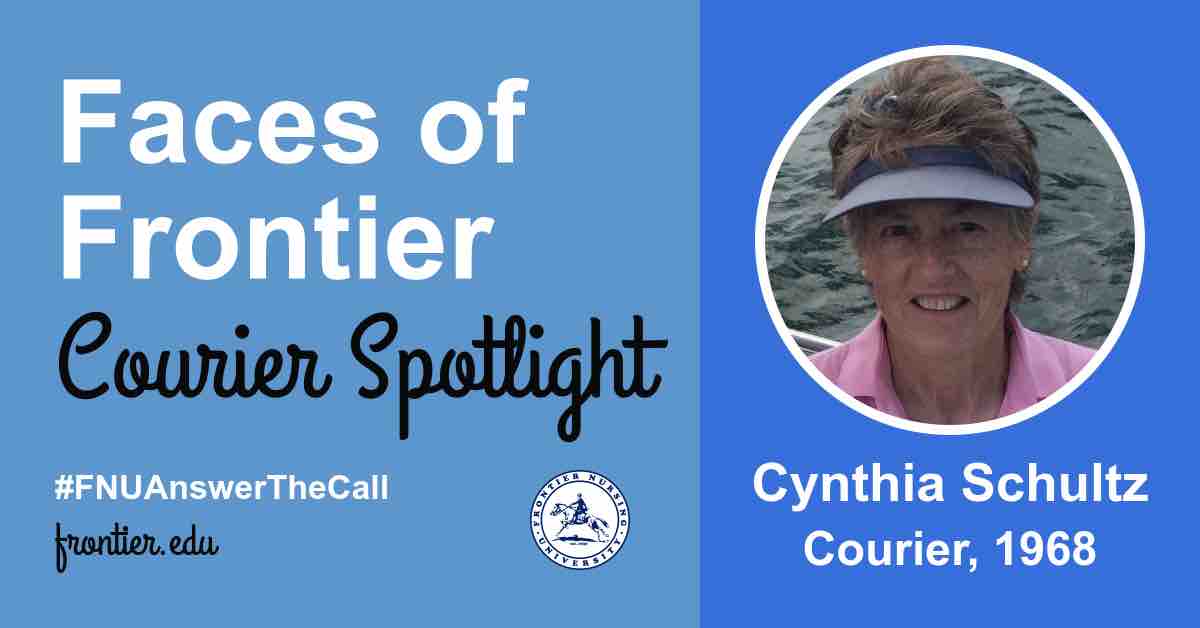 while she was in boarding school at Milton Academy in the tri-cities of New York. There were many connections to the Courier Program around the Boston area. The presentation was intriguing, but she did not decide to participate in the program until after she graduated from the University of Colorado. Cynthia graduated in the middle of the year, which allowed her the opportunity to travel to Wendover for 6 weeks in March of 1968 to serve as a Courier.
Cynthia was interested in this program for several reasons. First and foremost, she always had health care in the back of her mind, and she still does today. Also, she did not know what she was going to be doing after graduation, her participation in the Courier Program gave her time to sort this out. Additionally, in the summer prior to her participation in the Courier Program, Cynthia spent 6 weeks in Sierra Leone, Africa for a cross-roads program. Cynthia enjoyed taking these adventurous trips, and she was excited to take on her next adventure in the Courier Program.
As a Courier, Cynthia's main duty was to attend home visits with the nurses. Although they tried to encourage the people of the region to go to the hospital or clinics, most preferred to remain in their own homes when receiving medical care. One of the most significant home visits for Cynthia was when a woman went into labor suddenly. Although Cynthia was not able to be in the room during the delivery, she listened in the next room, which was still exciting!
Riding horseback was something that was infamous for Couriers in years past. Prior to traveling to Wendover, Cynthia had ridden horses on several occasions but was not completely adept. However, it was something she enjoyed, and thus she was enthused to be able to spend time with horses during her service as a Courier. She took care of them, groomed them, and rode them as well.
In her free time as a Courier, Cynthia remembers driving the FNS jeeps up the creek beds, one of the most adventurous activities for her. Additionally, one day, she traveled to a small nearby town called Berea where she went to a museum and enjoyed the local crafters and people. One of her most memorable experiences during her free time was when she attended a church service in Venice in which there were many snakes used in its practice. She remembers it was somewhat frightening so she did not go back, but she was glad she was able to experience it.
After Cynthia's various activities while exploring the area, she always enjoyed the hot, home-cooked meals at Wendover. "Those khaki pants kept getting tighter," she recalls.
After completion of the Courier Program, Cynthia got married, had children, and worked as a social worker for a number of years. In 1999, she decided to return to school for Massage Therapy. Presently, she works in hospice care and thoroughly enjoys what she is doing. Although she had an interest in healthcare prior to the Courier Program, her time as a Courier confirmed her passions, and thus she has continued her career working in the healthcare field.