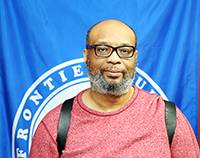 "I chose Frontier because the school is nationally ranked and has strong core values and a long history of success in distance learning. FNU has supported my journey to becoming a nurse practitioner in almost every aspect, from academic, to help during a hurricane, to mentoring and giving me an opportunity to attend national conferences."
- Keife Earley, MSN, PMHNP
Alumni News
At the heart of Frontier Nursing University is a talented and diverse community of students, alumni, faculty, staff, Couriers and preceptors. Our blog features members of the FNU community who are focused on the mission of educating nurse-midwives and nurse practitioners to deliver quality health care to underserved and rural populations.
Alumni Spotlight: Kimberly Jones-Beatty Seeks Data-Driven Solutions to Maternal Mortality Crisis
It's one thing to identify a problem. It's quite another to find a solution. Yet that is what FNU Doctor of Nursing Practice (DNP) Alumni Kimberly Jones-Beatty, CNM, DNP, Class 37, is striving to do.
The problem has become increasingly well known, as the alarming numbers depicting the maternal mortality crisis in the United States persist. In 2018, there were 17 maternal deaths for every 100,000 live births in the U.S. — a ratio more than double that of most other high-income countries, and the U.S. has the highest maternal mortality rate among developed countries.^ The data is even more concerning for Black and American Indian/Alaska Native (AIAN) women…
FNU All-Access Podcast: Why Advocacy Matters in Nursing and How to Be an Advocate